Yoshitsugu Abe (阿部よしつぐ Abe Yoshitsugu),born on May 17, 1979 in the Souka-shi, Saitama, Japan, is a Japanese stage actor. He's currently agency-free.
He's part of the first-generation Seigaku members and played the role of Kawamura Takashi. Though he's a member of the Seigaku first-gen cast, he was unable to participate in the reunion in Dream Live 7th, therefore Kitamura Eiki replaced him in that performance.
After his graduation from TeniMyu he has heavily engaged himself in numerous musicals and plays, notably various renditions of Les Miserables. Occasionally he provides lectures on vocal practices to music students.
TeniMyu
Theater
► SHOW UP! SHA UP! VOL. 7 (1998)
Ai rabu bocchan (2000)
YESTERDAY IS...HERE (2000)
SHOW UP! SHA UP! VOL. 8 (2000)
Recitation Drama: Hamada Hirosuke Fairy Tale (2000)
Collection: Red Ogre's Tears (2000)
Gokokuji Nostalgia (2001)
Risa no hitomi no naka ni (2001)
Jekyll & Hyde [November] (2001-2002)
Morning Town (2002)
International Family Festival 2002: Ryuu no me no namida (2002)
FOOT LOOSE (2002)
Jekyll & Hyde (2003)
Recitation Drama: Hamada Hirosuke Fairy Tale Collection: Tales of Moonlight and Rain (2003)
Where's Charley? (2003)
Les Miserables Campaign Concert (2003)
Les Miserables (2003)
Suna no senshi-tachi (2003)
Joint Dinner Show: Bojorenuuboo no tabe (2003)
Jump Festa 2004 (2003)
Les Miserables (2004)
April Joint Live (2004)
May Joint Live (2004)
Les Miserables in Concert (2004)
Miss Saigon (2004)
2004 Arinko Concert (2004)
Arai Kouko 4th Album Recording Concert (2004)
Joint Dinner Show: Bojorenuuboo no tabe (2004)
Les Miserables in Concert (2004)
Jump Festa 2005 (2004)
Arai Kouko 4th Album Sale Commemoration Joint Live (2005)
Les Miserables (2005)
Cherry Blossom Viewing Joint Live (2005)
First Solo Live 「Tanjou」(2005)
Amattare Suekkotachi no Jiritsu!? (2005)
Arai Kouko Album Sale Commemoration In-Store Mini-Live (2005)
Mid Summer Live (2005)
Amattare Suekkotachi no Jiritsu!? (2005)
Complex Party (2005)
Arai Kouko BARBARA Encore Live (2005)
Arinko Joint Live (2005)
Jekyll & Hyde (2005)
Toshi wasure Joint Live (2005)
Songs to begin the new year Live (2006)
Shimoseki Dinner Show (2006)
Hiroshima First Live (2006)
Joint Live (2006)
Bean Throwing Night Live (2006)
Amattare Suekkotachi no Jiritsu!? (2006)
Les Miserables (2006)
I Have A Dream Spike (2006)
Entertainment Show Case [from Zero] (2006)
SINGOUT FESTA (2006)
Amattare Suekkotachi no Jiritsu!? (2006)
TEPCO 1 banjin concert 16th [ougon no toki - ai to eien no kizuna -] (2006)
Trouble Show (2006)
Komorebi Friday Live Solo Concert ~me ni wa mienai chikara~ (2006)
Joint Dinner Show: Bojorenuuboo no tabe (2006)
Amattare Suekko-tachi no Shougatsu B・O・K・E!? (2007)
Hawaiian Dance Production (2007)
Ganryuujima GANG (2007)
Ajisai Kabuki (2007)
Jekyll & Hyde (2007)
Joint Live With Arai Kouko (2007)
Kaze ni nari kaze ni nareri (2007)
Ikeda Yumiko Second LIVE "ACT 2," featuring Abe Yoshitsugu (2007)
Shine (2007)
Torio de Torio (2007)
Royal Host Club (2007)
I Have A Dream (2007)
Dinner Show with Arai Kouko (2007)
Koike Yuuji Christmas Live, featuring Abe Yoshitsugu (2007)
Phantom (2008)
CLUB SEVEN (2008)
258 (2008)
Japan Original Musical Movie (2008)
Flamingo no Yume (2008)
Beaujolais Nouveau no Yube (2008)
Re: The Show Drowsy Chaperone (2009)
English-Only Live (2009)
Ocha-kai (2011)
Les Miserables (2011)
Filmography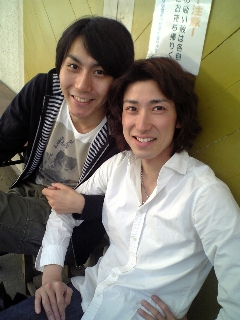 TV
Movies
Trivia
His hobbies includes sports, the outdoors and watercolor painting
His favorite flowers are dandelion, ooinunofuguri (veronica persica, or "persian speedwell")
His favorite animal is the pegasus
He is among the cast on the Children's Masterpiece Theatre: Sleeping Beauty CD
He appears on Best Musical - Track 10, Starlight Express ~Boku koso Starlight, duet with Ishii Kazutaka
He has also released a CD with original songs called Mamori Bito
Websites