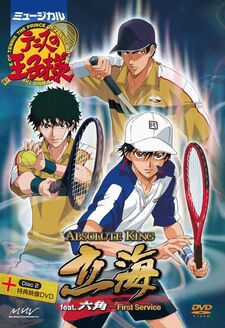 This performance covers the doubles matches between Seigaku against rival school, Rikkai Daigaku Fuzoku in the Kanto Tournament.
Yanagishita Tomo as Kaidoh Kaoru's debut was in this musical, with it the first-generation Rokkaku appeared as well. Additionally, new actors were casted for the roles of Kato Kachiro and Mizuno Katsuo, replacing actors Mori Yuya and Okamoto Yuki.
Absolute King Rikkai feat. Rokkaku ~ First Service ran from December 13 to December 25 in Tokyo, and from December 28, 2006 to January 8, 2007 in Osaka.