Acaba Mio

Now

-

TeniMyu

Information
Japanese Name
紅葉 美緒(あかば みお)
Romaji
Akaba Mio
Born In
Tochigi Prefecture, Japan
Birthday
July 3, 1987
Age
30
Character
Marui Bunta
Generation
Rikkai B
Portrayers
Previous
Kiriyama Ren
Next
Yasukawa Junpei
Mio Acaba (紅葉美緒 Akaba Mio), born in the Tochigi Prefecture of Japan, is a Japanese actor. He is headed by Theater Co.
In TeniMyu he played the second-generation Marui Bunta.
TeniMyu
Theater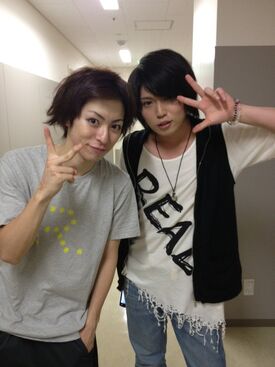 ROCK'N JAM MUSICALⅢ - 元役
第5回東京パフォーマーズ倶楽部公演「浅草あちゃらか」(2010年9月16日-20日、 品川・六行会ホール) - 福富直樹 役
THE BUTTERFLY EFFECT~Neo Loneliness~ - アラン 役(Blue moment ver.cast)
舞台版「世界のどこにでもある、場所2」(2010年11月30日-12月5日、下北沢駅前劇場、作:大森一樹) - 遠藤真一 役
時空警察ヴェッカーサイト - ラファエル 役
学園八犬伝(2011年8月18日-21日、全労済ホールスペース・ゼロ、原作・脚本・作詞:天美幸) - 犬村大角礼義 役
FREE(S)プロデュース「Time Capsule-タイムカプセル-」 - 良平 役
Be Withプロデュース「Chitty Chitty Bang Bang Ⅱ 「1×1=2 Only two Box」」(2011年5月25日-29日、ワーサルシアター)
不消者(けされず)15回公演「青春のすたるじあ」(2011年6月15日-17日、横浜・相鉄本多劇場、作:有本貴博)
不消者(けされず)16回公演「ホスピタルビルド2011」(2011年7月27日-31日、中目黒キンケロシアター、作:有本貴博)
にほんのうた実行委員会「男子ing!!」(2011年10月14日-20日、相鉄本多劇場)
ミュージカル「コードギアス 反逆のルルーシュ -魔人に捧げるプレリュード-」(2012年6月28日-7月8日、天王洲銀河劇場)
Smile Earth Project「コミックス☆GOGO」(2012年8月17日-26日、俳優座劇場)
LIBERUSプロデュース 東京ギロティン倶楽部第一回公演「東京奇人博覧会」(2013年4月17日‐21日、全労済ホールスペース・ゼロ)
Filmography
TV
ごくせん - ホスト 役
都立水商! ホスト 役
ハングリー! ホスト 役
Movies
タクミくんシリーズ3 美貌のディテイル - 片倉利久 役
Websites
Ad blocker interference detected!
Wikia is a free-to-use site that makes money from advertising. We have a modified experience for viewers using ad blockers

Wikia is not accessible if you've made further modifications. Remove the custom ad blocker rule(s) and the page will load as expected.