Osamu Adachi (足立 理 Adachi Osamu, born December 22, 1987) is a Japanese actor and was a member of the acting group D-BOYS, though he is still headed by the same agency, Watanabe Entertainment.
He is best known for his role as the second-generation Kikumaru Eiji in The Prince of Tennis musical series, TeniMyu, and in the live film adaptation.
Adachi's appearance in the live film adaption was his debut movie role. Since his graduation from TeniMyu in Dream Live 3rd, he's pursued various acting roles in TV dramas and theatre.
TeniMyu
Theater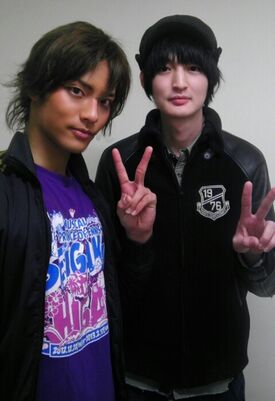 D-BOYS STAGE: The Last Game (June 2008)
D-BOYS STAGE vol 3: Karasu 04 (April 2009) as Ryu
D-BOYS STAGE vol 4: The Last Game (August 2010)
D-BOYS STAGE 2011: The Merchant of Venice (April 2011) as Nerissa
Filmography
TV/Dramas
Hice Cool Takashi [2005]
Me and Her xxx [2005]
Shinrei Shashin Kitan (as Junichi Yamamoto) [2006]
DD-BOYS [2006]
Princess Princess D (as Akira Sakamoto) [2006]
General Rouge no Gaisen (as Yasutomo Nagayama) [2010]
Sayonaru, Aruma (as Lance Corporal Kawamura) [2010]
Shibatora [2011]
DxTOWN (as Nada) [2012]
Iryu Sousa 2 (as Mitsuo Kamata) [2012]
Movies
My Boss My Hero (as Shinichi Maki) [2006]
Bra Bra Ban Ban [2008]
Higanjima (as Nishiyama) [2010]
Websites