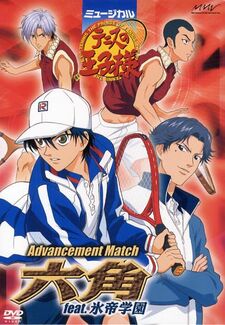 This musical revolves around the Kanto matches between Seigaku and Chiba-based tennis club, Rokkaku.
The original cast of this show had Takahiro Tasaki in the role of Kaidoh Kaoru, but due to Tasaki's withdrawal from the show, Kujirai Kousuke (who had graduated in Dream Live 3rd) was brought back to the musical as his replacement.
This is the first performance featuring the third-generation Seigaku cast and the first-generation Rokkaku cast.
Advancement Match Rokkaku feat. Hyotei Gakuen ran from August 3 to August 13, 2006  in Tokyo. Four performances also ran in Osaka from August 17 to August 19 with performances running later at the Meitetsu Theater Hall in Nagoya from August 23 to August 25.