Shintarou Akiyama (秋山 真太郎 Akiyama Shintarō), born on July 8, 1982 in the Nagasaki Prefecture of Japan, is a Japanese actor. He's headed by LDH Inc. Additionally, he's part of the theater company called EXILE.
In TeniMyu he played the second-generation Hyotei's Oshitari Yuushi while also performing with Hyotei A during the Imperial Presence performances.
TeniMyu
Theater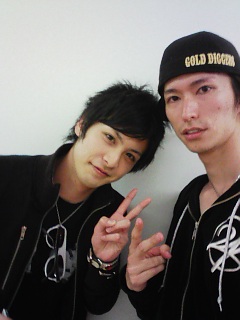 戦火のモラトリアム(2005年11月)
太陽に灼かれて(2007年9月 - 10月)
DEAR BOYS(2007年12月) - 下田利伸 役
CROWN〜眠らない、夜の果てに…(2008年5月)
リプレイス(2009年8月 - 9月) - 黒沢大輔 役
ユーバエ8号(2009年11月) - 柴 役
六惡党(2010年4月)- 須貝忠兵衛 役
KILL THE BLACK(2010年6月) - 湊蒼介 役
ろくでなしBLUES(2010年12月) - 輪島 役
Knocturn「真田十勇士 〜ボクらが守りたかったもの〜」(2011年12月) - 霧隠才蔵 役
五線紙の上のジェーン(2012年6月)
あたっくNo.1(2012年8月 - 9月)
影武者独眼竜(2012年10月)
ホテルマジェスティック 〜戦場カメラマン澤田教一 その人生と愛〜(2013年3月) - 中嶋謙三 役
さよなら西湖クン(2013年5月 - 6月)
Filmography
TV
Movies
Websites
Ad blocker interference detected!
Wikia is a free-to-use site that makes money from advertising. We have a modified experience for viewers using ad blockers

Wikia is not accessible if you've made further modifications. Remove the custom ad blocker rule(s) and the page will load as expected.