Aoki Tsunenori

Now

-

TeniMyu

Information
Japanese Name
青木玄徳 (あおき つねのり)
Romaji
Aoki Tsunenori
Born In
Saitama, Japan
Birthday
October 19, 1987
Age
29
Character
Atobe Keigo
Generation
Hyotei 2nd
Portrayers
Previous
Kubota Yuki
Tsunenori Aoki (青木玄徳 Aoki Tsunenori), born on October 19, 1987 in Saitama, Japan, is a Japanese actor. He's headed by Dolce Star Co.
In TeniMyu he portrays Atobe Keigo, the captain of Hyotei's tennis team, and is part of Hyotei 2nd, the first Hyotei cast of the second season of Musical Prince of Tennis.
Seigaku vs. Hyotei was his first musical, and since then he has participated in various other musical and theatrical performances.
TeniMyu
Theater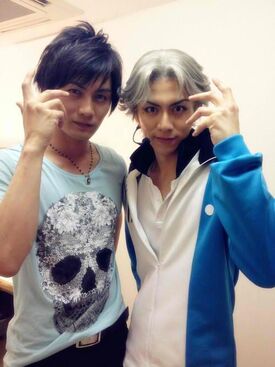 舞台『FUNNY BUNNY-鳥獣と寂寞の空-』 2012年4月19日~4月30日)
  青山円形劇場 脚本・演出 飯塚 健(荒川アンダーザブリッジ THE MOVIE)
朗読劇『ユンカース・カム・ヒア』 2012年7月3日~8日 ル・テアトル銀座)ユンカース役
ミュージカル『リズミックタウン』 2012年12月20日~12月24日 シアターサンモール)ラオ役
ミュージカル『熱帯男子』 2013年2月7日~2月17日 全労済ホールスペース・ゼロ)銀蔵役
舞台『絶対彼氏』 2013年3月16日~3月20日 シアター1010)ナイト役
Filmography
TV
テレビ東京「AXA」(2011年6月)
テレビ東京「サキよみジャンBANG!」 (2011年6月)
BS-TBS「non-no TV」(2011年7月)
NHK「MAG・ネット」(2011年9月)
牙狼<GARO>〜闇を照らす者〜 - 楠神哀空吏 役(2013年OA予定)
放課後グルーヴ 第8話 - 大学生 役(2013年6月10日、TBS)
Movies
Websites
Ad blocker interference detected!
Wikia is a free-to-use site that makes money from advertising. We have a modified experience for viewers using ad blockers

Wikia is not accessible if you've made further modifications. Remove the custom ad blocker rule(s) and the page will load as expected.