Arai Yusuke

Now

-

TeniMyu

Information
Japanese Name
新井 裕介(あらい ゆうすけ)
Romaji
Arai Yūsuke
Born In
Saitama Prefecture, Japan
Birthday
October 23, 1985
Age
31
Character
Inui Sadaharu
Generation
Seigaku 5th
Portrayers
Previous
Takahashi Yuuta
Next
Teruma
Yusuke Arai (新井 裕介 Arai Yūsuke), born on October 23, 1985, is a Japanese actor and model from the Saitama Prefecture of Japan. He's headed by Oscar Promotion.
In TeniMyu he played the fifth-generation Inui Sadaharu as a part of Seigaku 5th, the last generation Seigaku cast of the first season.
TeniMyu
Theater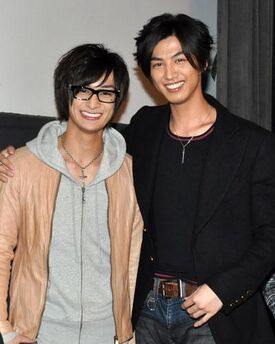 シブヤ×アキバ~カノジョはボクの青い鳥・未来ver.~ - リョータ役 (August - September 2010)
ユウコ~矢部家の大ピンチ!?笑う門には矢部来たる~ - 矢部祐介・芸人マイケル役(二役) (September 2010)
激動の時を超えて 『BUTLER×BATTLER』 ~聖夜の贈りもの~ - 諸星翼役 (December 2010)
夏の夜の夢 ~から騒ぎの森~ - ライサンダー役 (July 2011)
美童浪漫大活劇〈第三部〉『学園八犬伝』 - 犬山道節忠與役 (August 2011)
Filmography
TV
恋愛百景(テレビ朝日)
アスコーマーチ〜明日香工業高校物語〜(2011年、テレビ朝日) - 平川光司 役
クローバー(2012年、テレビ東京) - 南正彦 役
Movies
ローカルボーイズ! (2010年3月)三田役
ゲキアツ~真夏のエチュード~ (2011年8月)井澤健一役
富士見二丁目交響楽団 寒冷前線コンダクター (2012年2月)桐ノ院圭 役
Websites
Ad blocker interference detected!
Wikia is a free-to-use site that makes money from advertising. We have a modified experience for viewers using ad blockers

Wikia is not accessible if you've made further modifications. Remove the custom ad blocker rule(s) and the page will load as expected.