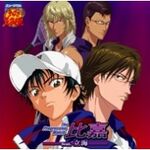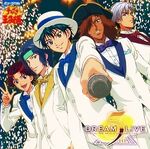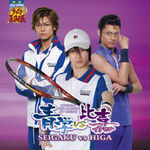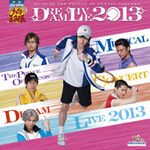 'Be Cool' is seen in:
"Mada mada dane."

"Bakana!"

"Demo, yappa bakajikara da yo ne. Ude ga shibireteiru yo. Saa, kimeru yo."


BE COOL

Kakka shinaide Reisei ni ba wo yome

BE COOL

Ira tsukanaide Kakujitsu ni misuero


Ore wa shiai no tabi ni seichou suru

Aite wo riyou shite Teki no ippo mae wo sakinzuru

Ore wa kooto no naka de muishiki ni manabu

Dousureba kateruka Shouri no housoku


"Choushi ni norisugimashita ne~, Tanishi-kun..."

"Makerarene~!"

"Ugoki ga hayakunatta!?"

"Kei-kun! Shindemo sono pointo, otosun jyane~!!"

"Tanishi no yatsu koko e kite ii tenshon da."

"Hou, yareba dekiru jyaanai ka."

"Buryaa~!!"


BE COOL

Gattsu kakushite Ochitsuki ushinauna

BE COOL

Bibiru koto naku Chakujitsu ni osaero

BE COOL


Chikara de wa makete shimau aite demo

Toppakoutan shite Teki no omoikomi no ura wo kaku

Ore wa shiai no tabi ni chokkan de ugoku

Kousureba kateruze Shouri no arikata

BE COOL

ビー クール

カッカしないで 冷静に場を読め

ビー クール

イラつかないで 確実に見据えろ


俺は試合のたびに成長する

相手を利用して 敵の一歩前を先んずる

俺はコートの中で無意識に学ぶ

どうすれば勝てるか 勝利の法則


ビー クール

ガッツ隠して 落ち着き失うな

ビー クール

ビビる事なく 着実に押さえろ

ビー クール


力では負けてしまう相手でも

突破口探して 敵の思い込みの裏をかく

俺は試合のたびに直感で動く

こうすれば勝てるぜ 勝利のあり方

ビー クール

Sources
Ad blocker interference detected!
Wikia is a free-to-use site that makes money from advertising. We have a modified experience for viewers using ad blockers

Wikia is not accessible if you've made further modifications. Remove the custom ad blocker rule(s) and the page will load as expected.