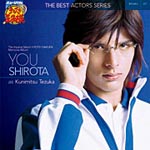 Released December 19, 2005, 'Best Actors Series 001' featured Seigaku 2nd's Shirota Yuu as Tezuka Kunimitsu.
He was the first to get a Best Actors Series album.
The original title is ミュージカル『テニスの王子様』 ベストアクターズシリーズ 001 城田 優 as 手塚国光.
油断せずに行こう・・・Kunimitsu Solo Edition
お前は青学の柱になれ・・・Kunimitsu Solo Edition 
Source
Ad blocker interference detected!
Wikia is a free-to-use site that makes money from advertising. We have a modified experience for viewers using ad blockers

Wikia is not accessible if you've made further modifications. Remove the custom ad blocker rule(s) and the page will load as expected.