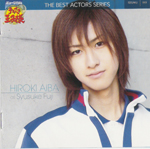 Released July 26, 2006, Seigaku 2nd and 3rd cast member Aiba Hiroki as Fuji Shusuke was the third to get a Best Actors Series CD.
Instrumental ~ Fuji vs. Ryoma
DL3 Kira Kira Version
相葉弘樹&KENN Message for you
Source
Ad blocker interference detected!
Wikia is a free-to-use site that makes money from advertising. We have a modified experience for viewers using ad blockers

Wikia is not accessible if you've made further modifications. Remove the custom ad blocker rule(s) and the page will load as expected.