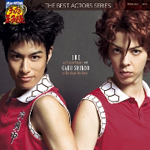 Released December 16, 2006, Shiozaki Airu and Shindo Gaku as Amane Hikaru and Kurobane Harukaze in the first-generation Rokkaku cast released the 6th Best Actors CD, being the second doubles pair releasing one.
Dabi-Bane Dansu
Gouin Ni Going My Way
Blast
Instrumental ~河村・桃城 vs 天根・黒羽Ⅰ
Instrumental ~不二・菊丸 vs 佐伯・樹
Instrumental ~アクロバティック&ジーニアス
Forward, my men! ~TRY AGAIN・・・DA・VI・BA・NE Edition
Source
Ad blocker interference detected!
Wikia is a free-to-use site that makes money from advertising. We have a modified experience for viewers using ad blockers

Wikia is not accessible if you've made further modifications. Remove the custom ad blocker rule(s) and the page will load as expected.