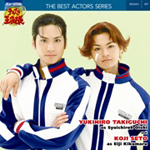 Released on July 25, 2007, Seigaku 3rd cast's Seto Koji and Takiguchi Yukihiro, as Kikumaru Eiji and Oishi Shuichiro released the 7th edition in the Best Actors Series.
Instrumental ~ Ano Hi Ano Toki
Instrumental ~桃城・海堂 vs 桑原・丸井Ⅱ
Instrumental ~リョーマ vs 切原Ⅱ
滝口幸広&瀬戸康史 Message for you
Source
Ad blocker interference detected!
Wikia is a free-to-use site that makes money from advertising. We have a modified experience for viewers using ad blockers

Wikia is not accessible if you've made further modifications. Remove the custom ad blocker rule(s) and the page will load as expected.