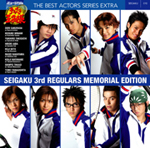 Released December 22, 2007, the Seigaku 3rd Cast was the first TeniMyu group to release a CD together. The CD is entitled Extra Seigaku 3rd Regulars Memorial Edition. The Ichinen Trio (Hara Masaki, Kawamoto Ryo, Eguchi Koichi) are not featured in this CD.
The third-generation Seigaku cast consists of:
TOP OF THE STAGE FOR THE TENNIS
青学三代目レギュラー陣 Message for you
Source
Ad blocker interference detected!
Wikia is a free-to-use site that makes money from advertising. We have a modified experience for viewers using ad blockers

Wikia is not accessible if you've made further modifications. Remove the custom ad blocker rule(s) and the page will load as expected.