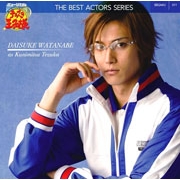 As a fourth-generation Seigaku cast member, Watanabe Daisuke as Tezuka Kunimitsu appeared in the 11th Best Actors CD.
The CD was released on July 30, 2008.
Instrumental~不二・河村VS知念・平古場Ⅰ
攻めろ、強くなれ!・・・Kunimitsu Solo Edition
青く燃える炎・・・Kunimitsu Solo Edition
Source
Ad blocker interference detected!
Wikia is a free-to-use site that makes money from advertising. We have a modified experience for viewers using ad blockers

Wikia is not accessible if you've made further modifications. Remove the custom ad blocker rule(s) and the page will load as expected.