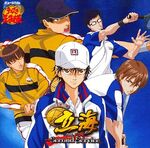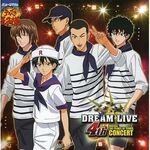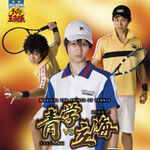 'Bloodshot' is performed in:
Hitomi ga chi no iro ni somaru toki

Yatsu wa gekiryuu ni natte hotobashiru

SPEED ni notte tsukisusumu

Maru de RACER dare mo oitsukenai

Katsu tame dake ni umarete kita to

Yatsu no idenshi ga sakebi tsuzuketeru

PRIDE no tame ni yousha nashi

Maru de FIGHTER teki wo tataki no mesu

BLOODSHOT, RED SIGNAL, kiken na SIGN

BLOODSHOT, akashingou da, omae no shinro wo habamu

Mou dare ni mo tomerarenai

Shunsatsu daze matataku ma no shouri

BLOODSHOT, BLOODSHOT, BLOODSHOT

瞳が血の色に染まるとき
やつは激流になってほとばしる
スピードに乗って突き進む
まるでレーサー 誰も追いつけない


勝つためだけに生まれてきたと
奴の遺伝子が叫び続けてる
プライドのために容赦なし
まるでファイター 敵を叩きのめす


ブラッドショット レッドシグナル 危険なサイン
ブラッドショット 赤信号だ お前の進路を阻む
もう誰にも止められない
瞬殺だぜ 瞬く間の勝利
ブラッドショット ブラッドショット ブラッドショット

When his eyes turn red
He turns into a wild torrent
He'll speed up and push forward
Like a racer who's faster than everyone
His genes are screaming
That he was born to win
To protect his pride, he won't show mercy
Like a fighter who knocks out his opponent
Bloodshot, Red signal, it's the sign of danger
Bloodshot, a red light, he'll get in your way
Noone can stop him anymore
It's an instant kill, victory in the twinkling of an eye
Bloodshot
Bloodshot
Bloodshot
Chachatto Tsubusu ze ~ Bloodshot
'Chachatto Tsubusu ze ~ Bloodshot' (チャチャッと潰すぜ~Bloodshot) performed alongside Bloodshot in Absolute King Rikkai feat. Rokkaku ~ Second Service.

Hey! Genius!

Tensai wa wasureta koro ni・・・ Chachatto tsubusuze

Hey! Genius!

Tentou tenka Yuigadokuson Zakennayo

Chachatto tsubusuze


Otsu ni sumashita sono kao ni

Doro wo nutte sashiagemashou

Rin toshita suzushii memoto ni

Kuyashinamida Tamete misemashou


Hey! Genius!

Tengu ni natteru sono hana・・・ Chachatto tsubusuze

Hey! Genius!

Ten shiru chi shiru ware shiru hito shiru Nan no koccha?

Chachatto tsubusuze


Bloodshot Red Signal Kiken na sign

Bloodshot Akashingou da Omae no shinro habamu

Mou daremo ni mo Tomerarenai

Shunsatsu daze Matatakuma no shouri

Bloodshot Bloodshot Bloodshot!

切原 ヘイ!ジーニアス
   天才は忘れた頃に… チャチャッと潰すぜ
   ヘイ!ジーニアス
   天上天下 唯我独尊 ざけんなよ
   チャチャッと潰すぜ


   乙に澄ましたその顔に
   泥を塗って差し上げましょう
   凛とした涼しい目元に
   悔しい涙 溜めてみせましょう


   ヘイ!ジーニアス
   天狗になってるその鼻… チャチャッと潰すぜ
   ヘイ!ジーニアス
   天知る地知る我知る人知る なんのこっちゃ?
   チャチャッと潰すぜ


立海 ブラットショット レッドシグナル 危険なサイン
   ブラットショット 赤信号だ お前の進路を阻(はば)む
   もう誰にも とめられない
   瞬殺だぜ またたく間の勝利
   ブラットショット ブラットショット ブラットショット!


切原 「行くぜ」

Sources
Ad blocker interference detected!
Wikia is a free-to-use site that makes money from advertising. We have a modified experience for viewers using ad blockers

Wikia is not accessible if you've made further modifications. Remove the custom ad blocker rule(s) and the page will load as expected.