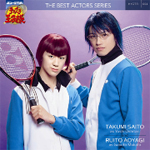 'Bohemian Blue' is a song exclusive to the fourth Best Actors Series CD featuring Aoyagi Ruito and Saito Takumi.


Toki no iki saki wo Shitteru nara
Dare ka oshiete yo Omoi deno mae ni


Tanoshii dekigoto mo Kanashii koto mo
Yagate nan to naku Boyaketeku dake ja…


Atedo naku Aruiteru tabibito mitai
Bokura wa Chizu mo motazu ni Kotae sagashiteru


Hito wa itsumo ashita to iu
Yume wo utagae nakute
Soshite kizu ga fuete yuku Kokoro kakushite
Doko ka tadori tsuku made


Umaku kawasenai Fuanna yoru wa
Hoshi no hikari sae Taiyou ni kawaru


Tayori naku Kaze ni mau konoha no you ni
Bokura wa Shinjitsu dake ni Kawaki Tsuzuketeru


Hito wa motto tsuyoku naru
Yume wo akiramenaito
Chigau wake wa kono itami Kokoro kanjiru…
Tabi no owari sagashite

時の行き先を 知ってるなら
誰か教えてよ 想い出の前に


楽しい出来事も 悲しいことも
やがて何となく ぼやけてくだけじゃ...


当て所なく 歩いてる旅人みたい
僕らは 地図も持たずに 答え探してる


人はいつも明日という
夢を疑えなくてそして
傷が増えて行く 心隠して
どこか辿り着くまで


上手く交わせない 不安な夜は
星の光さえ 太陽に変わる


頼りなく 風に舞う木の葉のように
僕らは 真実だけに 乾き続けてる


人はもっと強くなる
夢を諦めないと
誓う訳はこの痛み 心感じてる...
旅の終わり探して


人はいつも明日という
夢を疑えなくて
そして傷が増えて行く 心隠して
どこか辿り着くまで

Sources
Ad blocker interference detected!
Wikia is a free-to-use site that makes money from advertising. We have a modified experience for viewers using ad blockers

Wikia is not accessible if you've made further modifications. Remove the custom ad blocker rule(s) and the page will load as expected.