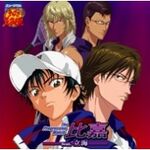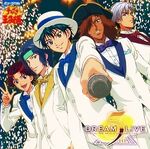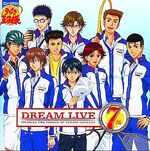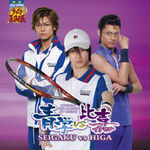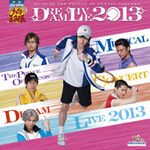 'Brand New Seigaku' (ブランニュー青学 Buran'nyū seigaku) is seen in:
"O~i Momo! Tezuka ga kaette kita zo!"
"E? Buchou ga!?"
"Sorosoro yama gomori, shuuryou shitara?
"Ikimasuka? Ato 10pun de ame futtekimasushi ne."


"Kaidou…Ima, nani wo…?"
"Zenkoku ni mukete, zettai sutamina fusoku wo kokufuku shite yarumon ne. Zettai ni!"
"Mou ikkai onegaishimasu."
"Nyarou~…"


"Jyan jya jya~n! Oishi, kiite yo! Kuuki wo usukushita toreeningu wo zutto tsuzuketetanda!
Kore de taibureeku made itte mo, mataku sutamina OK!!"
"Sugoi jya nai ka, Eiji!"
"Kore de Oishi no ashi wo hipparanakutemo sumu kara na."
"Eiji…"
"Seigaku Goruden Pea ni shikaku nashi!! Iei!!


Hajimaru Ima Aratana tatakai
Takamaru Ima Aratana toushi
Furui kara wo nugi suttee
Umare kawaru oretachi


Ikouze Saa Senjyou wa cooto
Katouze Sou Toppu mezashite
Kore made to chigau sugata
Dappi shita kano youni


Hitomawari okikunatte
Reberu appu suru oretachi
Akuseru zenkai Seigaku Da Da Da Da Dasshu!


Jibuntachi no chikara wo shinjiyou
Haiagaru tame no gattsu wo taitoku
Yuzurenu yabou to Hotobashiru tousoushin


Otoko nara kioku seisei doudou to shoubu to shiyouze
Sore ga ore no otoko michi


Kinou no eikou wo Ashita ni tsunageyou
Jibun katte na oretachi dakedo
Dokomademo Kagayaki tsuzukeru tame ni wa
Ichigan tonari Koto ni atarubeshi
Wan Fuo O~ru O~ru Fuo Wan
Seigaku Da Da Da Da Dasshu!


Hitsuyou na jyouhou wa subete te ni ireta
Imamadeno renshuu jya dame nanda
Saranaru Takami ga aru to iu no nara
Boku wa soko e iku Soko e iku
Koko made tsuzuiteru Eikou no ashiato
Todomaru kotonaku mirai mezasou
Itsumademo Yume wo mitsuzukeru tame ni wa


Kokoro wa hitotsu Zenin no chikara
Neba gibu appu Du mai besuto
Ikuze oretachi raibaru de paatonaa
Hitomawari okikunatte
Reberu appu suru oretachi
Akuseru zenkai Seigaku Da Da Da Da
Da Da Da Da Da Da Da Da Dasshu!

「おーい桃!手塚が帰ってきたぞ!」
「え?部長が!?」
「そろそろ山ごもり、終了したら?」
「行きますか。あと10分で雨降ってきますしね」


「海堂……今、何を……?」


「全国に向けて、絶対スタミナ不足を克服してやるもんね。絶対に!」


「もう一回お願いします」


「にゃろう…」


「じゃんじゃじゃーん!大石、聞いてよ!
空気を薄くしたトレーニングをずっと続けてたんだ!
これでタイブレークまで行っても、全くスタミナOK!!」
「すごいじゃないか、英二!」
「これで大石足を引っ張らなくてもすむからな」
「英二……」
「青学ゴールデンペアに死角ナシ!!イエイ!!」


始まる 今 新たな戦い
高まる 今 新たな闘志
古い殻を過ぎ捨てて
生まれ変わる俺たち


行こうぜ さぁ 戦場はコート
勝とうぜ そう トップを目指して
これまでと違う姿
脱皮したかのように
一回り大きくなって
レベルアップする俺たち
アクセル全開 青学 ダ・ダ・ダ・ダ・ダッシュ


自分達の力を信じよう
這い上がるためのガッツを体得
譲れぬ野望と 迸る闘争心
男なら潔く正々堂々と勝負しようぜ
それが俺の男道


昨日の栄光を 明日につなげよう
自分勝手な俺たちだけど
どこまでも 輝き続けるためには


一丸となり 事に当たるべし
ワン・フォー・オール オール・フォー・ワン
青学 ダ・ダ・ダ・ダ・ダッシュ


必要な情報はすべて手に入れた
今までの練習じゃダメなんだ
更なる 高みがあると言うのなら
僕はそこへ行く そこへ行く


ここまで続いてる 栄光の足跡
とどまる事なく未来目指そう
いつまでも 夢を見続けるためには


心は一つ 全員の力
ネバー・ギヴ・アップ ドゥ・マイ・ベスト
行くぜ俺たちライバルでパートナー
一回り大きくなって
レベルアップする俺たち
アクセル全開 青学 ダ・ダ・ダ・ダ
ダ・ダ・ダ・ダ  ダ・ダ・ダ・ダ・ダッシュ!

Sources
Ad blocker interference detected!
Wikia is a free-to-use site that makes money from advertising. We have a modified experience for viewers using ad blockers

Wikia is not accessible if you've made further modifications. Remove the custom ad blocker rule(s) and the page will load as expected.