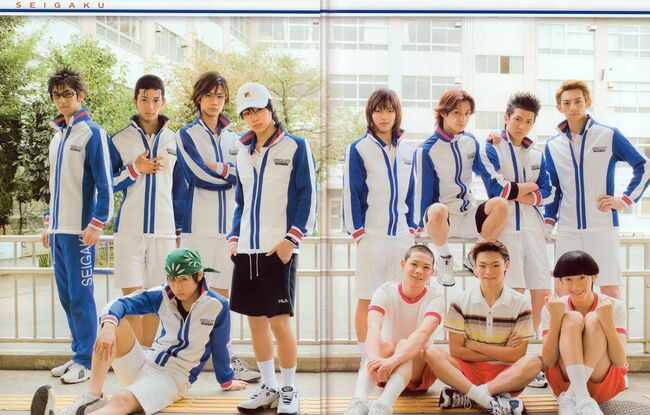 Seigaku 5th, or the fifth-generation Seigaku cast was the first cast to perform simultaneously with another present cast. In this case, both Seigaku 5th and Seigaku 4th performed in The Imperial Presence Hyotei Gakuen, the debut musical for Seigaku 5th.
Additionally, it's the first cast since Seigaku 2nd to have a Kato Kachiro portrayer stay for the entire generation. Seigaku 5th is the last Seigaku cast of the first season.
Due to audition conflicts for hiring an actor to portray Fuji Shusuke, the productions requested Aiba Hiroki to reprise his role as Fuji for The Imperial Presence Hyotei Gakuen. After that performance, Hashimoto Taito received the role and Aiba once again left TeniMyu.
They're seen in:
This category lists the actors from the 5th-generation Seigaku cast.
Pages in category "Seigaku 5th"
Ad blocker interference detected!
Wikia is a free-to-use site that makes money from advertising. We have a modified experience for viewers using ad blockers

Wikia is not accessible if you've made further modifications. Remove the custom ad blocker rule(s) and the page will load as expected.