Date Koji

Now

-

TeniMyu

Information
Japanese Name
伊達 幸志(だて こうじ)
Romaji
Date Kōji
Born In
Tokyo, Japan
Birthday
November 23, 1987
Age
29
Character
Ootori Choutarou
Generation
Hyotei A
Portrayers
Previous
N/A
Next
Seto Yusuke
Li Yong En
Koji Date, alternatively written as Kouji Date (伊達 幸志 Date Kōji, born November 23, 1987) is a Japanese actor and singer.
He is known most notably for his role as Ootori Choutarou in The Prince of Tennis movie and The Prince of Tennis musicals.
His first CD, 逆光, was released on November 7, 2007, and contained 9 songs, all written and produced by himself.
In 2011, he formed a new Japanese band called JOKER with fellow TeniMyu cast member Kato Kazuki and debuted their first single on December 7, 2011. Two years later, on JOKER's official website, the duo ended the musical project due to musical differences.
TeniMyu
Theater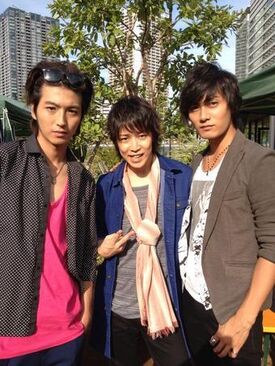 Rock'n Jam Musical II (as Koutarou) [2006-07]
R☆J LIVE MUSICAL [2007]
Filmography
TV
YOKOHAMA MUSIC EXPLORER~探求好的音楽~(テレビ神奈川)
Movies
Trivia
At one point Date was a nationally ranked tennis player and got to the Top 16 in the National Junior Tennis Tournament. Additionally he reached the Top 8 in Tokyo.
He owns two cats and two dogs, yet is allergic to cats.
Websites
Ad blocker interference detected!
Wikia is a free-to-use site that makes money from advertising. We have a modified experience for viewers using ad blockers

Wikia is not accessible if you've made further modifications. Remove the custom ad blocker rule(s) and the page will load as expected.