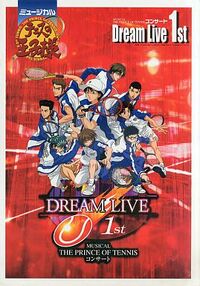 As the first live concert in TeniMyu, Dream Live 1st featured songs from the two previous musicals, Musical Tennis no Ouji-sama and Remarkable 1st Match Fudomine, and guest starred Fudomine's Ibu Shinji.
Performed on June 13, 2004 at Tokyo Metropolitan Gymnasium.
Dream Live 1st featured Endo Yuya as the new Echizen Ryoma for the generation as Yanagi Kotaro at the time was recovering from his injuries.