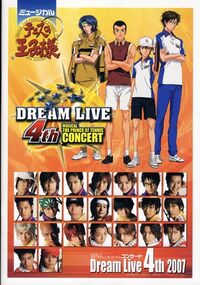 This Dream Live concert had two separate showings: the regular show and another one called ~Extra~.
In ~Extra~, several other actors from the different schools performed. Initially, Kamakari Kenta, who played Hyotei's Shishido Ryo, was set to appear in both shows, but Kamakari was suddenly hospitalized and pulled out of the musical. As a substitute, Kawai Ryunosuke as Hiyoshi Wakashi appeared in his place. On a side note, Kato Ryosuke played both Kisarazu Atsushi and Kisarazu Ryo in this Dream Live.
Dream Live 4th ran from March 30 to March 31, 2007 in Pacifico Yokohama, and in Osaka it ran from May 17 to May 20, 2007.
Source