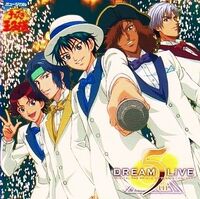 This article is a list of the songs from Dream Live 5th.
It was released on July 16, 2008.
Overture ~ Opening
Seigaku Medley
青学(せいがく)メドレー【青学(せいがく)レギュラー】青く燃える炎~ラン・ラン・ラン~THIS IS THE PRINCE OF TENNIS~ ブランニュー青学(せいがく)
お前ら崖っぷちギリギリ~ここからが・・・俺達【立海/他校ゲスト・六角】
ゴールデンペア 【大石・菊丸/不二・河村/桃城・海堂(柳下)/仁王・柳生
/柳・切原/平古場・知念/佐伯・樹】
Forward, my men!~TRY AGAIN【全員】
Source
Ad blocker interference detected!
Wikia is a free-to-use site that makes money from advertising. We have a modified experience for viewers using ad blockers

Wikia is not accessible if you've made further modifications. Remove the custom ad blocker rule(s) and the page will load as expected.