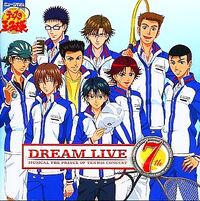 This article provides the official list for the songs performed in Dream Live 7th. Though it's not included in the CD, Shirota Yuu sings a solo version of Yume wo Tsunage in his guest appearance.
The soundtrack was released on August 25, 2010.
Overture
Seigaku MEDLEY
青学メドレー For Dream Live 7th 【青学】
Rikkai MEDLEY
立海メドレー For Dream Live 7th 【立海】
お前ら…崖っぷちギリギリ|デッド・エンド 【立海】
うちらのハートはパーカッション (ラテンダンスバージョン) 【四天宝寺】
思い出せ、越前! For Dream Live 7th 【青学】
僕は誰? (リプライズ)|天衣無縫の極み 【全員】
Shodai MEDLEY For Dream Live 7th
THIS IS THE PRINCE OF TENNIS 【初代青学レギュラー】
最後のゴールデンペア 【大石・菊丸/乾・海堂/不二・河村/金色・一氏/カツオ・カチロー/仁王・柳生/切原・柳/丸井・桑原】
あいつこそがテニスの王子様|I'M ALWAYS WINNER 【全員】
This is my best!|リユニオン~Heat Up II 【全員】
F・G・K・S (ファイナルバージョン) 【全員】 (アンコール)
Source
Ad blocker interference detected!
Wikia is a free-to-use site that makes money from advertising. We have a modified experience for viewers using ad blockers

Wikia is not accessible if you've made further modifications. Remove the custom ad blocker rule(s) and the page will load as expected.