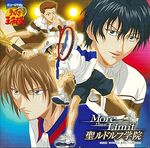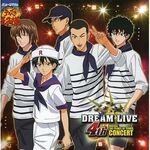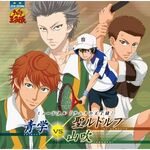 'Dream Maker' (ドリームメーカー Dorīmumēkā) is performed in:
Nemure wakaki shishi-tachi yo

Mukidashi no kiba wo osamete

Yasuragi no toki wa ima dake

Nakama no neiki Iyashi no yasuragi

Soshite Mabataki hodo no setsuna ni

Arata na risou Tsumugidashiteiru

Kimi wa DREAM MAKER


Nemure yume wo miru tame ni

Chibashitta hitomi fuujite

Ochitsuita kodou kazoete

Tsugi no shiai e Sou COUNTDOWN


Soshite hirameki matoi mezameru

Arata na risou Jitsugen suru tame ni

Kimi wa DREAM MAKER

Kimi wa DREAM MAKER

眠れ若き獅子達よ

剥き出しの牙を収めて

安らぎのときは今だけ

仲間の寝息 癒しの安らぎ

そして 瞬きほどの刹那に

新たな理想 紡ぎだしている

君はドリームメーカー


眠れ夢を見るために

血走った瞳封じて

落ち着いた鼓動数えて

次の試合へ そう カウントダウン


そして 閃きまとい目覚める

新たな理想 実現するために

君はドリームメーカー

君はドリームメーカー

As little sleeping lions you are withdrawing your bare fangs

In this short moment of serenity the breathing of your sleeping friends heals your peace of mind

And in the blink of an eye a new ideal has been born within you

You are a DREAM MAKER


Close your bloodshot eyes to discover your sleeping dream

COUNT DOWN to the next match by listening to your calm heartbeat


And you'll wake up with a flash of insight

So you'll realize you new ideal

You are a DREAM MAKER

You are a DREAM MAKER

Sources
Ad blocker interference detected!
Wikia is a free-to-use site that makes money from advertising. We have a modified experience for viewers using ad blockers

Wikia is not accessible if you've made further modifications. Remove the custom ad blocker rule(s) and the page will load as expected.