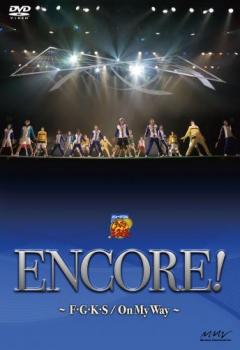 Encore! ~ 
F・G・K・S
/
On My Way
~ is a special collector's DVD that was released on February 28, 2010.
In this, selected TeniMyu cast members along with Ueshima Yukio (director/choreographer) teach a step-by-step guide on the dancing involved in both performances. Commentary and additional backstage clips are provided.
Cast
Source
Ad blocker interference detected!
Wikia is a free-to-use site that makes money from advertising. We have a modified experience for viewers using ad blockers

Wikia is not accessible if you've made further modifications. Remove the custom ad blocker rule(s) and the page will load as expected.