F・G・K・S (CD)
F・G・K・S (or F.G.K.S.) is a special CD with three different versions of the song with the same title. It's performed by the full cast in HigaMyu.
02. F・G・K・S ~Forever with you Version.
03. F・G・K・S ~Instrumental
F・G・K・S (Song)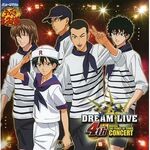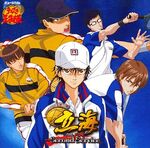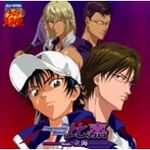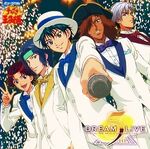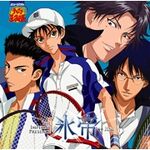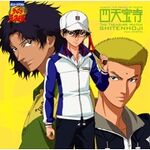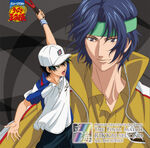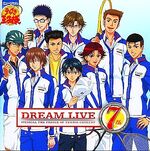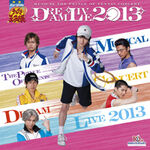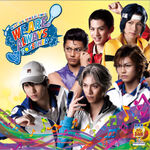 Also known as 'Fight On, Get On, Keep On, Step Up', the song is performed frequently in the second half of the first season.
Performed In:
Aoi sora no SCREEN ni Atsuku ko wo egaku TENNIS BALL
Ano houbutsusen no ARCH wo kuguri Ore-tachi wa mirai e mukatte iru saichuu


FIGHT ON, GET ON, KEEP ON, STEP UP

FIGHT ON, GET ON, KEEP ON, STEP UP


Tsukamaete miro Ore no inochi Sore wa COURT ni kakeru ikigomi

Uchikaeshite miro Ore no otakebi Sore wa TENNIS ni sasageta seishun

Koko wa ore no basho da Ippo mo hiku mon ka

Kore ga ore no ikizama da Itsumademo mitsuzukete kure


FIGHT ON Tatakai tsuzukeru no wa

GET ON Shouri ni mirai ga aru kara

KEEP ON HIGH ENERGY dokomademo

STEP UP Chishio ga futtou suru made

FIGHT ON, GET ON, KEEP ON, STEP UP


Oikakete miro Ore no dakyuu Sore wa ashita ni mukau kihaku da

RECEIVE shite miro Ore no ichigeki Sore wa kinou made no omoi no take

Koko wa ore no genten Subete no hajimari sa

Soshite nakama ni deatta Dokomademo issho ni ikou


FIGHT ON Tatakai tsuzukeru no wa

GET ON Shouri ni mirai ga aru kara

KEEP ON HIGH ENERGY dokomademo

STEP UP Chishio ga futtou suru made

蒼い空のスクリ-ンに 熱く弧を描くテニスボ-ル
あの放物線のア-チをくぐり 俺達は未来へ向かっている最中


FIGHT ON, GET ON, KEEP ON, STEP UP
FIGHT ON, GET ON, KEEP ON, STEP UP


捕まえてみろ 俺の命 それはコ-トに賭ける意気込み
打ち返してみろ 俺の雄叫び それはテニスに捧げた青春
ここは俺の場所だ 一歩も引くもんか
これが俺の生き様だ いつまでも見続けてくれ


FIGHT ON 戦い続けるのは
GET ON 勝利に未来があるから
KEEP ON ハイ・エナジ-どこまでも
STEP UP 血潮が沸騰するまで
FIGHT ON, GET ON, KEEP ON, STEP UP


FIGHT ON, GET ON, KEEP ON, STEP UP
FIGHT ON, GET ON, KEEP ON, STEP UP

FIGHT ON, GET ON, KEEP ON, STEP UP
FIGHT ON, GET ON, KEEP ON, STEP UP


追いかけてみろ俺の打球 それは明日に向かう気迫だ
レシ-ブしてみろ俺の一撃 それは昨日までの思いのたけ
ここは俺の原点 全ての始まりさ
そして仲間に出会った どこまでも一緒に行こう


FIGHT ON 戦い続けるのは
GET ON 勝利に未来があるから
KEEP ON ハイ・エナジ-どこまでも
STEP UP 血潮が沸騰するまで


FIGHT ON, GET ON, KEEP ON, STEP UP
FIGHT ON, GET ON, KEEP ON, STEP UP

Sources