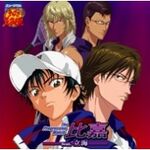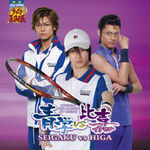 'Fight & Win' (ファイト&ウィン) is seen in:
"Hayai! Mattaku otoroeru dokoro ga…"
"Chikarazuyosa ga mashiteru jyan!"
"Namatte wa inai you da na…Tezuka. Saa, koi!!"


Banzen jyanai senshu wo Shiai ni dasu wake ni wa ikanai
Kanpeki jyanai omae ni Subete wo takusu wake ni wa ikanai
Ore to tatakae Soshite kate
Ichi geemu wo otosukoto naku
Omae ga inakute kateta Regyuraa no shiki wa agatteiru
Kega ga kanchi shiteiruka Sore wo oretachi ni shoumei shiro
Ore to tatakae Soshite kate
Ichi geemu wo otosukoto naku

"Kono pointo, ore ga toreba, omae wa ichi geemu wo ushinauzo."
"Sugee~! Oishi fukubuchou, ato ga nakunatte kara torikaeshite kita!"


"Mada mada~!!"


"Uggu!! Kuso! Konna teido no itami de…"
"Oishi senpai, migi tekubi, osaeteru!?"
"Masaka! Kantou taikai mae no tekubi no kega ga…!?"


"Kanshite inakatta no wa omae no hou daro…"
"Tezuka Zone!?"
"…Tezuka."


Banzen jyanai senshu wa Omae no hou datta you da na
Kega ga kanchi suru made wa Muri sezu chiryou ni sennen shiro
Kondo wa omae ga Yasumu ban da
Kono taikai ore ni makasero

Osanai koro kara Hagemashiai
Kenka shinagara Chikatta yakusoku
Seigaku wo zenkoku nanbaa 1 ni suru
Sore wa ima shikanai


Minna tatakae Soshite kate
Ichi GAME wo otosukoto naku
Saikyou no menbaa ga sorotteiru no dakara

万全じゃない選手を 試合に出すわけにはいかない
完璧じゃないお前に 全てを託すわけにはいかない
俺と戦え そして勝て
1ゲームを落とすことなく
お前がいなくて勝てた レギュラーの士気は上がっている
怪我が完治しているか それを俺たちに証明しろ
俺と戦え そして勝て
1ゲームを落とすことなく


「このポイント、オレが獲れば、お前は1ゲームを失うぞ」
「凄ぇ~っ! 大石副部長、後がなくなってから盛り返して来た!」
「まだまだぁ~っ!!」


「うぐっ!! クソッ! こんな程度の痛みで…」
「大石先輩、右手首、押さえてる!?」
「まさか! 関東大会前の手首のケガが…!?」
「完治していなかったのはお前の方だろ……」
「!」
「手塚ゾーン!?」
「……手塚」


万全じゃない選手は お前の方だったようだな
怪我が完治するまでは 無理せず治療に専念しろ
今度はお前が 休む番だ
この大会俺に任せろ


幼い頃から 励ましあい
喧嘩しながら 誓った約束
青学を全国ナンバー1にする
それは今しかない


みんな戦え そして勝て
1ゲームを落とすことなく
最強のメンバーが揃っているのだから

Sources
Ad blocker interference detected!
Wikia is a free-to-use site that makes money from advertising. We have a modified experience for viewers using ad blockers

Wikia is not accessible if you've made further modifications. Remove the custom ad blocker rule(s) and the page will load as expected.