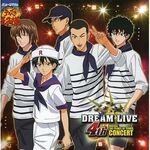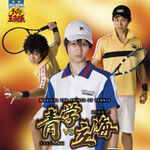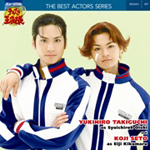 'Fukkatsu! Golden Pair' (復活!ゴールデンペア Fukkatsu! Gōrudenpea) is performed in:
Mou mayoi wa nai

Omae to futari kokoro kimetaze

Mou osore wa nai

Futari de ireba tenka muteki sa

Fukkatsu! GOLDEN PAIR

Saa mae ni susumou

Omae to naraba kokorozuyoize

Saa semete ikou

Futari de naraba kanarazu kateru

Fukkatsu! GOLDEN PAIR

Nandarou kono anshinkan

Hitotsu no kuukan wo kyouyuu suru yorokobi

Nandarou kono kouyoukan

Onaji toki no nagare tomo ni sugosu tanoshisa

Unmei sae mo wakachi au futari

Sore wa GOLDEN PAIR

もう迷いは無い お前と二人 心決めたぜ
もう恐れは無い 二人でいれば 天下無敵さ
復活! ゴールデン・ペア


さぁ前に進もう お前とならば 心強いぜ
さぁ攻めていこう 二人でならば 必ず勝てる
復活! ゴールデン・ペア


「ゲーム青学。1‐0!」
「やった―っ!立海戦、初めてリードしたよ!」


「左…右…、右だろ」
「ご苦労さん、英二!」
「ちっ!」


「遊びすぎです、仁王くん」
「プリッ」


「英二っ、いまだ!」
「まかせてチョンマゲ!」


何だろう この安心感
ひとつの空間を 共有する喜び
何だろう この高揚感
同じ時の中で 共に過ごす楽しさ
運命さえも分かち合う二人
それは ゴールデン・ペア

Sources
Ad blocker interference detected!
Wikia is a free-to-use site that makes money from advertising. We have a modified experience for viewers using ad blockers

Wikia is not accessible if you've made further modifications. Remove the custom ad blocker rule(s) and the page will load as expected.