Yuuta Furukawa (古川 雄大 Furukawa Yūta), born on July 9, 1987 in the Nagano Prefecture, is a Japanese actor, songwriter, singer, and model. He's headed by Sense Up Co. Affiliates include Sasaki Yoshihide and Hirose Yuusuke.
He is best known for his roles within the fourth-generation Seigaku cast as Fuji Shusuke in The Prince of Tennis musical series, TeniMyu. Along with that, he's also known for playing Kirikaze in Fuma no Kojiro TV drama.
TeniMyu
Theater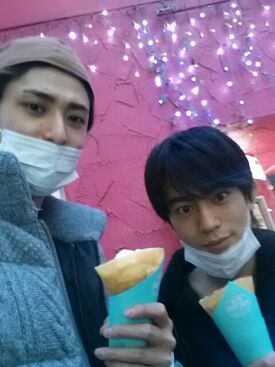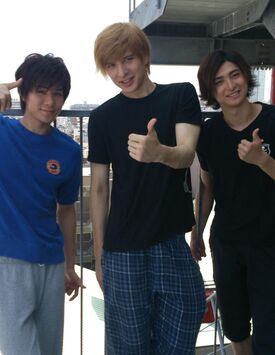 黑蜥蜴(2003年)(ダンサーとして)2010
風魔の小次郎 舞台版(2008年3月12 - 16日) - 霧風 役
ミュージカル ファントム(2010年11月 - 12月) - フィリップ・ドゥ・シャンドン伯爵 役
深説・八犬伝~村雨恋奇憚~(2011年2月11 - 24日) - 犬坂毛野胤智 役
醒めながら見る夢 (2011年9月 - 10月)
エリザベート(2012年5月9日 - 6月27日 帝国劇場、7月5日 - 26日 博多座、8月 中日劇場、9月1日 - 28日 *梅田芸術劇場) ルドルフ 役 *大野拓朗、平方元基とトリプルキャスト
私のダーリン (2013年3月26日 - 4月14日) - 便利屋の従業員 役
ミュージカル ロミオ&ジュリエット (2013年9月3日 - 10月5日 東急シアターオーブ、10月12 - 27日 梅田芸術劇場) - ロミオ 役 *城田優、柿澤勇人とトリプルキャスト
Filmography
TV
Fuuma no Kojirou (Tokyo MX, 2007) as Kirikaze
Shinsengumi PEACE MAKER (TBS, 2010) as Ichimura Tatsunosuke
Yankee-kun to Megane-chan (TBS, 2010) as Nagasaki (Ep. 9-10)
Movies
Ai Wo Utau Yori Ore Ni Oborero! (2012)
Ishi No Furu Oka (2010)
BECK (2010)
Tsuiji ichiban DAME na otoko(2010)
Bokura Wa Ano Sora No Shita De (2010)
Kamen Rider × Kamen Rider × Kamen Rider The Movie: Cho-Den-O Trilogy (2010)
Fujoshi Kanojo (2009)
Sho No Michi (2009)
2Steps! (2009)
Kizumomo (2008)
AXION (2008)
Discography
FULL COLOR VARiATiON (May 26, 2010)
Kako no Sora, Mirai no Boku (2010)
I (August 28, 2009)
Sunday (April 1, 2009)
COLOR VARiATiON (October 28, 2009)
PASTEL GRAFFiTi (October 29, 2008)
Fuma no Kojiro Character Songs Collection (December 19, 2007)
Trivia
Nakagauchi Masataka was his senior in a dance school in Nagano. They later performed together The Progressive Match Higa Chuu feat. Rikkai
Furukawa won various awards in dance
Websites
Ad blocker interference detected!
Wikia is a free-to-use site that makes money from advertising. We have a modified experience for viewers using ad blockers

Wikia is not accessible if you've made further modifications. Remove the custom ad blocker rule(s) and the page will load as expected.