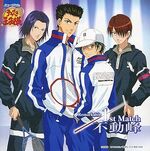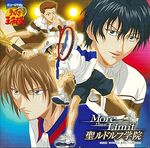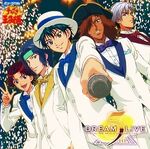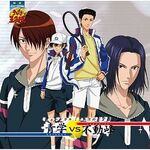 Not to be mistaken for 'Saigo no Golden Pair' or 'Fukkatsu! Golden Pair', 'Golden Pair' (ゴールデンペア Gōruden Pea) is a song that debuted in Remarkable 1st Match Fudomine and has since been reused in various performances and Dream Lives. It stresses the intimate, emotional relationship felt between the Seigaku doubles pair Kikumaru Eiji and Oishi Shuichiro.
'Golden Pair' is performed in:
Golden Pair I
ame de suberu jimen no ue demo hengen jizai ni
ugokimawaru neko no youna ACROBAT PLAY
aitsu wa torenai dakyuu wa nai ze


ore no kokoro sukashite miteru
nani o shitai no ka omitooshi sa
aitsu no BACKUP ga aru kara
jiyuu ni PLAY suru koto ga dekiru



omae to ore to wa GOLDEN PAIR


ESPERS jimite DANGEROUS
nani ga tobidasu no ka o zettai machigaenai you
mikiwameru no ga THRILL sa



omae to ore to wa GOLDEN PAIR


kimagure jimite FRAGILE
omoitsuki no ugoki o kekka ni musubi tsuketekure
kimi no FOLLOW ni THANK YOU suru



omae to ore to wa GOLDEN PAIR
ishindenshin PSYCHICS
kyouteki hodo kimeru ze akujouken hodo miseru ze
sarigenai hodo PERFECT



Kikumaru BEAM!

雨で滑る地面の上でも
変幻自在に動き回る
猫のようなアクロバットプレイ
あいつには取れない打球はないぜ
俺の心透かして見てる
何をしたいのかお見通しさ
あいつのバックアップがあるから
自由にプレイすることができる
お前と俺とはゴールデン・ペア
エスパーじみてデンジャラス
何が飛び出すのかを
絶対間違えないよう
見極めるのがスリルさ


お前と俺とはゴールデン・ペア
気まぐれじみてフラジャイル
思いつきの動きを
結果に結び付けてくれ
君のフォローにサンクス


お前と俺とはゴールデン・ペア
以心伝心 サイキック
強敵ほど きめるぜ
悪条件ほど 魅せるぜ
さりげないほど パーフェクト


菊丸 (台詞)菊丸ビーム!

Golden Pair II
Omae to ore to GOLDEN PAIR
Mochitsu motaretsu Yoroshikune


Omae ga MINUS nara Ore wa PLUS ijou ni naru

Itsumo ni tanomari shiteru yo


Omae to ore to wa GOLDEN PAIR

Onaji yume mite Me ga sameru

お前と俺とゴールデンパア
持ちつ持たれつ よろしくね


お前がマイナスなら 俺はプラス以上になる

いつもに頼りしてるよ


お前と俺とはゴールデンパア

同じ夢見て 目が覚める

You and I are the GOLDEN PAIR
Let's help each other whenever we can


If you are MINUS, I'll become more than PLUS

Trust on me whenever you need me


You and I are the GOLDEN PAIR

We share the same dream and we'll achieve it!

Sources
Ad blocker interference detected!
Wikia is a free-to-use site that makes money from advertising. We have a modified experience for viewers using ad blockers

Wikia is not accessible if you've made further modifications. Remove the custom ad blocker rule(s) and the page will load as expected.