Hamao Kyosuke

Now

-

TeniMyu

Information
Japanese Name
浜尾京介 (はまお きょうすけ)
Romaji
Hamao Kyōsuke
Born In
Tokyo, Japan
Birthday
June 25, 1991
Age
27
Character
Kikumaru Eiji
Generation
Seigaku 4th
Portrayers
Previous
Seto Koji
Next
Takasaki Shouta
Kyosuke Hamao (浜尾 京介 Hamao Kyōsuke, born June 25, 1991 in Tokyo) is a former Japanese actor and model. He was formally headed by Fortune Entertainment.
He is best known for his role as Kikumaru Eiji of the fourth generation Seigaku cast in The Prince of Tennis musical series, TeniMyu and playing the role of Takumi in the Takumi-kun movie series.
In 2010, he portrayed the hero Aguri/Gosei Black in Tensou Sentai Goseiger, the first portrayer of a Black Super Sentai Warrior to have been born in the Heisei period of Japanese history.
Via a live broadcast as well as a staff blog post it was announced that he would leave the entertainment business from February 2014 forward.
TeniMyu
Theater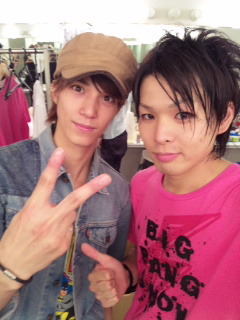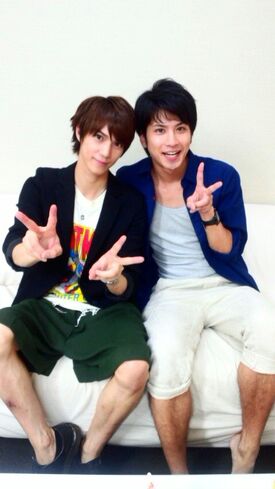 エブリ リトル シング'09(2009年8月10日〜16日、天王洲銀河劇場) - 清明 役
困ったメン〜絶望のジングルベルMIX〜(2009年12月16日〜20日、全労済ホールスペース・ゼロ) - サチオ 役
PEACE MAKER〜新撰組参上〜(2011年6月3日〜12日、シアターGロッソ) - 沖田総司 役
abc★赤坂ボーイズキャバレー『2回表!』〜喝!&勝つ!〜(2011年8月24日〜31日、赤坂ACTシアター・9月3*日〜5日、イオン化粧品シアターBRAVA!) - 福本亮 役
コカンセツ!〜再演〜(2011年9月21日〜25日、天王洲銀河劇場) - 河合雅樹 役
ANGEL EYES 真っ直ぐにススメ。(2011年10月13日〜16日、シアターグリーン BOX in BOX) - キズナ 役
不思議な町の王子様(2012年2月8日〜12日、シアターサンモール) - ケイタロウ 役
新撰組異聞PEACE MAKER(2012年4月15日〜22日、シアターGロッソ ※再演) - 沖田総司 役
舞台版「WORKING!!」(2012年5月11日〜20日、全労済ホールスペース・ゼロ) - 小鳥遊宗太 役
BS-TBS サマーパーティー2012 エチュード(2012年8月23日〜24日、赤坂BLITZ)
舞台戦国BASARA3 -瀬戸内響嵐-(2012年11月2日〜11日、東京ドームシティホール・11月16日〜18日、イオン化粧品シアターBRAVA!) - 長曾我部元親 役
舞台版 不毛会議(2013年1月9日〜15日、CBGKシブゲキ!!) - 新村 役
不思議な町の王子様 第二章(2013年2月20〜24日、シアターサンモール) - ケイタロウ/一条蘭 役
メサイア ー銅ノ章ー(2013年4月10〜14日、シアターサンモール) - 司馬柊介 役
メサイア-白銀ノ章-(2014年1月15日〜19日、シアターGロッソ) - 司馬柊介 役
Filmography
TV
ごくせん 第3シリーズ(2008年、日本テレビ) - 寺内京介 役
ごくせん 卒業スペシャル(2009年、日本テレビ) - 寺内京介 役
俺たちは天使だ! NO ANGEL NO LUCK(2009年、テレビ東京) - 第6話ゲスト・サム 役
天装戦隊ゴセイジャー(2010-2011年 、テレビ朝日) - アグリ / ゴセイブラック(声) 役
ギャルバサラ外伝(2012年 、名古屋テレビ) - 与平 役
Movies
タクミくんシリーズ2 虹色の硝子(2009年、ビデオプランニング) - 葉山託生 役
ごくせん THE MOVIE(2009年、東宝) - 寺内京介 役
侍戦隊シンケンジャーVSゴーオンジャー 銀幕BANG!!(2010年、東映) - ゴセイブラック(アグリの声) 役
タクミくんシリーズ3 美貌のディテイル(2010年、ビデオプランニング) - 葉山託生 役
月と嘘と殺人(2010年) - 竹内翔 役
天装戦隊ゴセイジャー エピックON THEムービー(2010年、東映) - アグリ / ゴセイブラック(声)役
タクミくんシリーズ4 Pure〜ピュア〜(2010年、ビデオプランニング) - 葉山託生 役
天装戦隊ゴセイジャーVSシンケンジャー エピックon銀幕(2011年、東映) - アグリ / ゴセイブラック(声)役
ゴーカイジャー ゴセイジャー スーパー戦隊199ヒーロー大決戦(2011年、東映) - アグリ / ゴセイブラック(声)役
タクミくんシリーズ5 あの、晴れた青空(2011年、ビデオプランニング) - 葉山託生 役
ギャルバサラ -戦国時代は圏外です-(2011年、角川映画) - 与平 役
武蔵野線の姉妹(2012年、アイエス・フィールド) - ケン 役
映画版 不毛会議(2013年、CLIE) - 新村 役
メサイア-漆黒ノ章-(2013年、ダブルアップエンタテインメント) - 司馬柊介 役
冴え冴えてなほ滑稽な月(2013年、ティー・オーエンタテインメント) - 武藤雅美 役
僕たちの高原ホテル(2013年、ビデオプランニング) - 相沢歩 役
テコンドー魂~REBIRTH~(2014年2月15日公開予定、東映ビデオ) - 石場退助 役
クジラのいた夏(2014年5月3日公開予定、ユナイテッドエンタテインメント) - ギズモ 役
Websites