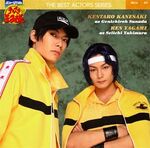 'Hatsukoi' (初恋 Hatsukoi) is a song seen exclusively in the ninth Best Actors Series CD featuring Kanesaki Kentarou and Yagami Ren as Sanada Genichirou and Yukimura Seiichi.


yukkuri mewotoji neburi no tobirawo sotto hiraita toki kimiga irebaureshii
saisho attanoha aza no basu toori munega atsuku natta omoidesu dakede imamo


itoshii kimochiga umaretekite keishokuga kawatta


onajikaze onajiyume onajitoki no nagade
hashiritai mitsumetai motto hanashitemitai
aoisaraga totemo niaune
ashitamo kimini aeruyouni


jibunno kokoroga konnani yuraguto yosoushitenakatta waraitohashitemo iiyo


shiritai kimochiga afuretekite omoihatsunotta


konokodou konoitami konosetsunosa wo ima
todoketai shirasetai motto hanashitehoshii
shiroitsubasa senakaniareba
imasugu kimini aerunonine


onajikaze onajiyume onajitoki no nagade
hashiritai mitsumetai itsuka futari deitai
yoruga wakete mata azagakita
mousugu kimini aerundane


ゆっくり眼を閉じ 眠りの扉を そっと開いた時 キミがいればうれしい
最初会ったのは 朝のバス通り 胸が 熱くなった 思い出すだけで 今も


愛しい気持ちが 生まれてきて 景色が変わった


同じ風 同じ夢 同じ一瞬の中で
走りたい 見つめたい もっと話してみたい
青い空が とても似合うね
明日も キミに 会えるように


自分の心が こんなに揺らぐと 予想してなかった 笑いとばしてもいいよ


知りたい気持ちが あふれてきて 想いはつのった


この鼓動 この痛み この切なさを今
届けたい 知らせたい もっと話してほしい
白い翼 背中にあれば
いますぐ キミに 会えるのにね


同じ風 同じ夢 同じ一瞬の中で
走りたい 見つめたい いつか二人でいたい
夜が明けて また朝がきた
もうすぐ キミに 会えるんだね

Source
Ad blocker interference detected!
Wikia is a free-to-use site that makes money from advertising. We have a modified experience for viewers using ad blockers

Wikia is not accessible if you've made further modifications. Remove the custom ad blocker rule(s) and the page will load as expected.