Hayashino Takeshi

Now

-

TeniMyu

Information
Japanese Name
林野 健志(はやしの たけし)
Romaji
Hayashino Takeshi
Born In
Fukuoka Prefecture, Japan
Birthday
January 5, 1980
Age
37
Character
Chinen Hiroshi
Generation
Higa 1st
Portrayers
Previous
N/A
Next
Yoshioka Yu
Takeshi Hayashino (林野健志 Hayashino Takeshi), born on January 5, 1980, is a Japanese actor, model, and photographer from the Fukuoka Prefecture of Japan. He's headed by Justice Production.
As a photographer he's appeared in various exhibitions, released photobooks, and has used various mediums for his collections such as iPhone pictures.
In TeniMyu he played the role of Chinen Hiroshi as a part of Higa 1st, the first-generation Higa cast.
TeniMyu
Theater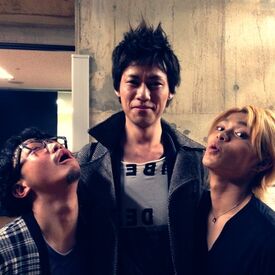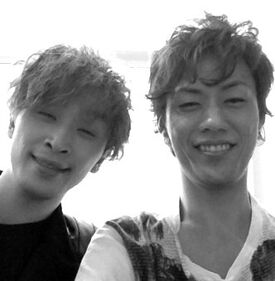 DECODE(2007年10月)- 勇者アレフ 役
ジャスティバル(2008年3月)
フェイク お気に召すまま (2008年12月)
オアシスと砂漠~Love on the planet~(2009年1月)- 種田 役
桜SAKURAサクラ(2009年3月)- 風魔小太郎 役
TEACHERS〜職員室より愛を込めて〜(2009年7月)- 教師 役
空の境界(2009年8月27日-)- 武智半平太 役
しあわせになりたい(2009年9月22日 - 9月27日) - 川上 役
舞台「灰とダイヤモンド」 (2011年2月16日~20日)
スーパーミュージカル「聖闘士星矢」(2011年7月28日-31日、[全労済ホール/スペース・ゼロ]) - 楯座のヤン 役
シーズン~巡り合い~ (2011年8月24日~8月28日)
MIDNIGHT DREAM~機械城奇譚~ -〈SPRING SIDE〉 (2011年11月4日~9日)- 青年 役
スーパーミュージカル 聖闘士星矢再公演(2011年12月22〜25日 天王洲銀河劇場)- 楯座のヤン 役
舞台版コードギアス「騒乱の前夜祭(イヴ)」(2012年4月7日~16日)- 扇要 役
東京アンテナコンテナ第11回本公演「未来という名の昨日を連れて」(2012年6月1日~10日 吉祥寺シアター)- 西田亮祐 役
TIGER & BUNNY THE LIVE(2012年8月24日-9月1日)- ネイサン・シーモア(ファイヤーエンブレム) 役
マクロス ザ・ミュージカルチャー(2012年10月3日 - 10月8日) - ゼガンド 役
Act Stage 舞台 桃太郎外伝~黄金の夜明け~(2012年10月18日 - 10月21日) - ラスプーチン 役
眠れぬ町の王子様(2012年11月28日 - 12月2日) - 醐醍院響 役
舞台ホス探へようこそ (2013年1月24日 - 12月27日) - 黒月 役
ミュージカル座 「ロイヤルホストクラブ」 (2013年4月11日 - 4月14日) - 鮫島鉄矢 役
STAGE×12 vol.2 「ドキュメン?」 (2013年5月14日 - 5月17日) - 三郎 役
ポチッとな。~Switching On Summer~2013 (2013年7月10日 - 7月15日) - 師岡貴教 役
眠れぬ町の王子様~dreams like bubbles of Champagne~(2013年8月28日 - 9月1日) - 醐醍院響 役
Filmography
TV
フジテレビ「笑っていいとも」
テレビ朝日「ナサケの女 ~国税局査察官~」(2010年10月21日-12月9日) - 夢野流偉 役
Movies
乱暴者の世界(2010年10月9日公開)- 戸川恵介 役
Websites
Ad blocker interference detected!
Wikia is a free-to-use site that makes money from advertising. We have a modified experience for viewers using ad blockers

Wikia is not accessible if you've made further modifications. Remove the custom ad blocker rule(s) and the page will load as expected.