Jin Hiramaki (平牧 仁 Hiramaki Jin), also known as 'Charlie' to fans, is the sixth portrayer of Oishi Shuichiro. He's a part of the sixth-generation Seigaku cast that graduated in the Seigaku Farewell Party in 2012.
Hiramaki's headed by OscarPro Co.
He's also a part of a musical group called Sprout. Hiramaki's seen in numerous TeniMyu backstages playing the piano and various interviews note that he's composed music since the age of eight-years-old.
TeniMyu
Theater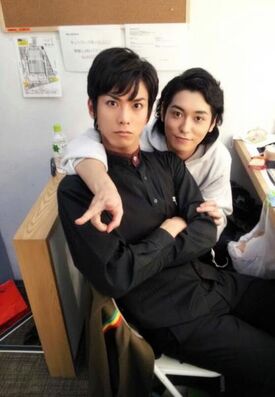 PERFECT BOY FACTORY(2012年12月13~16日)春花 役
しっぽのなかまたち(2012年12月25日)
舞台芸術集団地下空港第12回公演「壺を割った男」(2013年2月20~26日)貝塚シンジ 役
合唱ブラボー!(2013年6月6~16日)
Filmography
TV
あした天気になあれ。(2003年、日本テレビ)
祝女(2011年、NHK総合テレビ)
NTV『人生が変わる1分間の深イイ話』
NTV『行列のできる法律相談所』
Movies
Websites
Ad blocker interference detected!
Wikia is a free-to-use site that makes money from advertising. We have a modified experience for viewers using ad blockers

Wikia is not accessible if you've made further modifications. Remove the custom ad blocker rule(s) and the page will load as expected.