Kinari Hirano (平埜生成 Hirano Kinari), born on February 17, 1993, is a Japanese actor from Tokyo, Japan. He's currently headed by AMUSE Co. On a sidenote, he plays saxophone, guitar, and piano, the first two being hobbies of his.
In TeniMyu he plays the second-generation Kamio Akira.
TeniMyu
Theater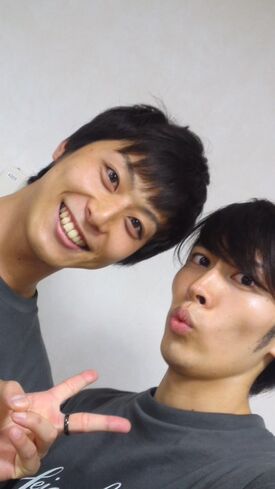 「オレたちの高校白書〜偏差値27からの完全犯罪」(2009年9月2日-9月6日、千本桜ホール)
「BLACK&WHITE 悪魔のテンシ天使のアクマ」(2010年8月28日-9月5日、サンシャイン劇場)
「サイキックフライト!~頑張る7人のエスパーとあと2、3人~」(2011年4月28日-5月8日、千本桜ホール)
「サイキックフライト!~頑張る7人のエスパーとあと2、3人~」(再演)(2012年3月2日-3月6日、千本桜ホール)
「ロミオ&ジュリエット」(2012年4月29日-6月10日、赤坂ACTシアター他)
「JEWELERY HOTEL」(2012年7月13日-7月22日、紀伊國屋ホール)
「Have a good time?」(2012年8月17日-9月2日、千本桜ホール)
「SAMURAI挽歌 II」(2012年11月30日-12月13日、紀伊國屋ホール他)
「ゴーストレイト」(2013年4月19日-4月29日、CBGKシブゲキ!!)
「FROGS」(2013年5月17日-5月26日、シアターグリーン BIG TREE THEATER)
「FROGS」(再演)(2013年7月18日-7月27日、AiiA Theater Tokyo)
「アウタースペース109」(2013年9月25日-10月6日、CBGKシブゲキ!!)
「双牙~ソウガ~零」 (2013年11月13日-11月17日、シアター1010)
Filmography
TV
セクシーボイスアンドロボ (2007年 日本テレビ)
Movies
東京タワー 〜オカンとボクと、時々、オトン〜(2007年)
work shop(2013年)
人狼ゲーム(2013年)
Websites
Ad blocker interference detected!
Wikia is a free-to-use site that makes money from advertising. We have a modified experience for viewers using ad blockers

Wikia is not accessible if you've made further modifications. Remove the custom ad blocker rule(s) and the page will load as expected.