Hirose Yuusuke

Now

-

TeniMyu

Information
Japanese Name
広瀬友祐
Romaji
Hirose Yūsuke
Born In
Tokyo, Japan
Birthday
October 14, 1985
Age
33
Character
Ishida Gin
Generation
Shitenhoji A
Portrayers
Previous
N/A
Next
Yoneyama Yuuta
Yuusuke Hirose (広瀬友祐 Hirose Yūsuke), born on October 14, 1985, is a Japanese actor.
In TeniMyu he plays the role of Ishida Gin as a part of Shitenhoji A's cast.
Since his departure from TeniMyu he's participated in various theatrical plays as well as TV dramas and movies.
TeniMyu
Theater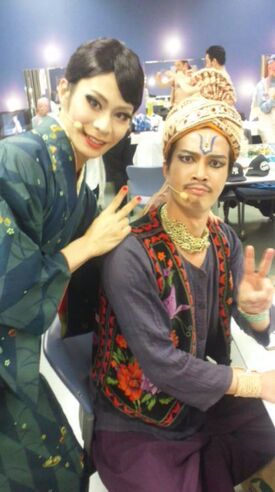 「マグダラなマリア」〜マリアさんは二度くらい死ぬ!オリエンタルサンシャイン急行殺人事件〜(2009年11月) - グスタフ 役
「ガーネットオペラ」(2010年3月)
花咲ける青少年 - ユージィン・アレキサンドル・ド・ヴォルカン 役
ルドビコ★plus+ vol.1 異空間ステージ 花咲ける青少年 ~The Budding Beauty~ (2010年9月 - 2010年10月)
ルドビコ★plus+ vol.2 異空間ステージ 花咲ける青少年 ~The Budding Beauty in The Oriental Blue Wind~ (2011年2月)
ルドビコ★plus+ 異空間ステージ 花咲ける青少年 ~The Blooming Princess Special Event~ (2011年11月)
ルドビコ★plus+ vol.3-4 異空間ステージ 花咲ける青少年 ファイナル ~The Blooming Princess~ (2012年1月)
Be With プロデュース VOL.16 Neo Shakespeare <ROMEO×JULIET ~legend of painful heart > ロミオ 役 (2011年3月)
スーパーミュージカル「聖闘士星矢」 (2011年7月) - フェニックス一輝 役
スーパーミュージカル『聖闘士星矢』再公演(2011年12月22〜25日 天王洲銀河劇場)- フェニックス一輝 役
AND ENDLESS 15th Anniversary Special Program vol.2 『美しの水』-White Blue Red Purple- 平維盛 役 (2011年8月 - 2011年9月)
舞台「戦国BASARA3」 (2011.10/14~16 イオン化粧品 シアターBRAVA!(大阪)/ 10/23~30 シアターGロッソ(東京)) - 徳川家康 役
ニコニコミュージカル『源氏物語』- 藤原氏 役(2011年11月)
Office ENDLESS Produce vol.9『RE-INCARNATION』 - 夏侯惇 元譲 役(2012年2月)
マリア・マグダレーナ来日特別公演『マグダライブ!!』 - グスタフ 役(2012年6月18日 - 20日)
『マクロス ザ・ミュージカルチャー』 - ヴィーゴ・ウォルグリア 役(2012年10月3日 - 8日)
Filmography
Movies
タクミくんシリーズ4 Pure〜ピュア〜(2010年) - 相楽貴博 役
行け!男子高校演劇部(2011年) - 新田 役
TV
土曜ワイド劇場「棘の街」(2011年6月18日、朝日放送)
Websites