Hosogai Kei

Now

-

TeniMyu

Information
Japanese Name
細貝 圭(ほそがい けい)
Romaji
Hosogai Kei
Born In
Tokyo, Japan
Birthday
October 24, 1984
Age
32
Character
Hiyoshi Wakashi
Generation
Hyotei B
Portrayers
Previous
Kawai Ryunosuke
Next
Ise Daiki
Kei Hosogai (細貝 圭 Hosogai Kei) is a Japanese actor and musician most notable for his roles as Basco ta Jolokia in Kaizoku Sentai Gokaiger. Until the mutual break-up of Cocoa Otoko, a rock band, he was positioned as the band's bassist while TeniMyu alumni Kamakari Kenta served as the lead vocalist. He is currently under Production Ogi. Up until October 2013 he was headed by GMB Production but decided to not renew his contract with the agency.
From ages 6–9 and 11-23, he lived in the United States, primarily in Seattle, Washington, and in the state of Hawaii; because of this, he is fluent in English.
In TeniMyu he played the role of Hiyoshi Wakashi as a part of Hyotei B, the second-generation Hyotei cast. During The Imperial Presence Hyotei Gakuen feat. Higa Chuu, he performed with Hyotei A when his predecessor, Kawai Ryunosuke, wasn't present to perform.
TeniMyu
Theater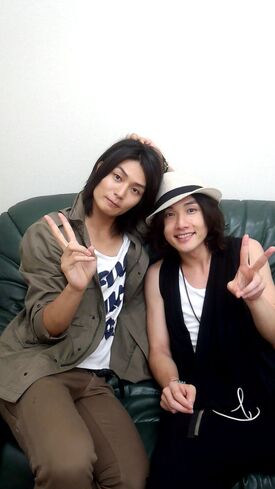 THE BUTTERFLY EFFECT-バタフライ・エフェクト(2008年11月、2009年4月) - アラン 役
女信長(2009年6月)- 今川義元 役
舞台「戦国BASARA ~蒼紅共闘~」 (2010年4月) - 真田幸村 役
舞台「青面獣楊志」(2010年6月) - 韓信 役
舞台「タンブリング」(2010年9月-10月) - 泉水清彦 役
舞台「陰陽師~Light and Shadow~」(2011年4月7日 - 17日) - 鳥尾 役
舞台「戦国BASARA3」(2011年10月14日 - 16日、10月23日 - 30日) - 真田幸村 役
舞台「ケータイ刑事 銭形結」(2011年12月31日)※ゲスト出演
朗読劇「しっぽのなかまたち」(2012年12月18日 - 26日)
遠い夏のゴッホ(2013年2月3日 - 24日・3月7日 - 10日) - セルバンテス 役
舞台「激動-GEKIDO-」(2013年8月23日 - 9月2日) - 山家亨 役
飛龍伝21 ~殺戮の秋(2013年10月5日 - 20日) - 細貝 役
灼熱のゲリラ 5DAYS スペシャル「広島に原爆を落とす日」(2013年12月4日 - 8日) - 細貝 役
朗読劇「こゝろ」Orange(2013年12月18日 - 23日)
REVELATION GARDEN - スパルタクスの反乱 -(2014年2月22日 - 3月2日)
Filmography
TV
EXs Renai Hyakukei (2009)
Shitsuji Kissa ni Okaerinasaimase (Ep. 8) as Kusabue (2009)
KTV's Ikemendel no Housoku (2010)
Heaven's Rock as Jun (2010)
KTV's MOTEL (2011)
Sky Perfect's LogxMen-COCOAOTOKO- (2011)
Kaizoku Sentai Gokaiger as Basco ta Jolokia (2011)
Secret Girls 2 as Sakurakoji Rei (2012)
W Shitsuji ~ Ojousama, dochira ga okonomi desu ka? as Youji (2012)
Movies
Takumi-kun: Niji Iro no Garasu as Takabayashi Izumi (2009)
Bokura wa ano Sora no Shita de as Sawada Osamu (2009)
Hana Oni as Takatsuki Reiji (2009)
Girl's Life as Hayate (2009)
Messiah as Shimada Tomokazu (2011)
Kaizoku Sentai Gokaiger vs. Space Sheriff Gavan: The Movie as Basco ta Jolokia (2012)
Tokumei Sentai Go-Busters vs. Kaizoku Sentai Gokaiger: The Movie as Basco ta Jolokia (2013)
Websites
Ad blocker interference detected!
Wikia is a free-to-use site that makes money from advertising. We have a modified experience for viewers using ad blockers

Wikia is not accessible if you've made further modifications. Remove the custom ad blocker rule(s) and the page will load as expected.