Hotta Masaru

Now

-

TeniMyu

Information
Japanese Name
堀田勝 (ほったまさる)
Romaji
Hotta Masaru
Born In
Kanagawa Prefecture, Japan
Birthday
March 17, 1980
Age
37
Character
Mizuno Katsuo
Generation
Seigaku 1st
Seigaku 2nd
Portrayers
Previous
N/A
Next
Okamoto Yuki
Masaru Hotta (堀田勝 Hotta Masaru) was born on March 17, 1980 and is part of the first-generation Seigaku cast in TeniMyu. He's in a theater troupe called Super Eccentric Theater (SET).
He played the role of Mizuno Katsuo with the first and second Seigaku cast, later to graduate with the latter group in Dream Live 3rd.
Hotta later returns to the second season of TeniMyu as an MC for events such as the 2012 Undoukai and Dream Live 2013.
TeniMyu
Theater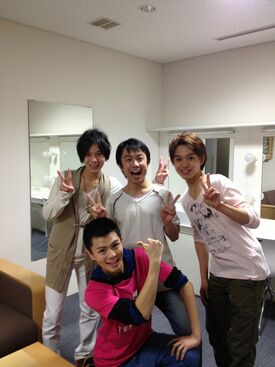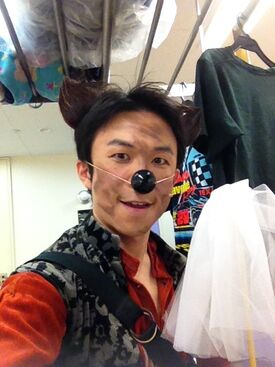 「GO NOW」~夢は・・・かなう~
ROCK MUSICAL PROJECT #002「ホワイト*ソング」
わらびぃ~ず21「かみあわせ」
S×Sプロデュースvol.5「SHUFFLE」(2010年8月,シアターサンモール)
他多数
Filmography
TV
Movies
Voice Acting Roles
(The) Asylum Session (movie)
Beyblade: Metal Fusion (TV) as Face Hunter A; Hajime Tsukino
Bikkuriman 2000 (TV) as Genetsu 2 Sai
Cookin' Idol Ai! Mai! Main! (TV) as Tokumaru
Eyeshield 21 (TV) as Yukimitsu Manabu
Ginyuu Mokushiroku Meine Liebe wieder (TV) as Henchman (ep 9)
Katekyo Hitman Reborn! (TV) as Enzio (Dino's turtle); Ivan (Dino's subordinate; ep 15); Leonardo Lippi; Male Student (ep 1)
Medarot Damashii (TV) as Kiethturtle
Meine Liebe (TV) as Bodyguard; Follower
Onegai My Melody (TV)
(The) Prince of Tennis (TV) as Club member; Ginka Club Member; Karate Student; Middle School Student
Whistle! (TV) as Yoshihiko Koga
Yu-Gi-Oh! 5D's (TV) as Usui
Trivia
Before becoming an actor, Hotta worked at an oil factory. After realizing the job was unsatisfactory, he quit and pursued acting.
Websites
Ad blocker interference detected!
Wikia is a free-to-use site that makes money from advertising. We have a modified experience for viewers using ad blockers

Wikia is not accessible if you've made further modifications. Remove the custom ad blocker rule(s) and the page will load as expected.