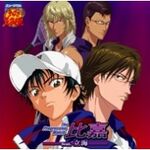 'Hyakuren Jitoku no Kiwami' (百錬自得の極み Hyakuren Jitoku no Kiwami) is seen in:
Hyakuren jitoku no kiwami
Muga no bakuhatsu teki ni afureru pawaa wo


Hidari ude ippon ni atsume
Iryoku kaiten nado wo Bai gaeshi de henkyuu deki
"Sara ni, fukusayou no hirou mo saishougen ni osaerareru. Soshite sore wo kanou ni suru
Tezuka Zone."


Moeru AURA
Yatsu wo tsutsumu Tezuka Zone
Hyakuren Jitoku no Kiwami
Sore wo kono sannen ude no kega no tame ni
Fuuin wo shite kita you da na


Ima tokihanatsu no ka
Shouri wo shita kono shiai de
Kanpeki ni yomigaerishi mono
Honshou misekakeru ga gotoku


Moeru oora
Yatsu wo tsutsumu Tezuka Zone
Kono shiai de
Hajimete miru koto ga dekiru buchou no
Honrai no sugata
Shin no jitsuryoku wa
Bokutachisura shiranai
MYSTERY ZONE


Victory
Sore wa warera no namae
Kachi tsuzukeru koto ga shukumei
Tetteishita shouri e no shuuchaku
Sore ga toppu no akashi


Korekara wa muhai
Dokomade mo muhai
PRIDE tataki warera wa
Kourin suru ouja

百錬自得の極み
無我の爆発的に溢れるパワーを
左腕一本に集め
威力回転などを 倍返しで返球でき
「更に副作用の疲労も 最小限に抑えられる。
そしてそれを可能にする手塚ゾーン」
燃えるオーラ奴を包む手塚ゾーン


百錬自得の極み
それをこの3年腕の怪我のために
封印をしてきたようだな
今解き放つのか 勝利をしたこの試合で
完璧によみがえりし者 本性見せつけるが如く
燃えるオーラ奴を包む手塚ゾーン


この試合で
初めて見る事ができる部長の 本来の姿
真の実力は 僕たちすら知らない
ミステリー・ゾーン


ヴィクトリ― それは我らの名前
勝ち続けることが宿命
徹底した勝利への執着
それがトップの証


これからは無敗
どこまでも無敗
プライド高き我らは
降臨する王者

Sources
Ad blocker interference detected!
Wikia is a free-to-use site that makes money from advertising. We have a modified experience for viewers using ad blockers

Wikia is not accessible if you've made further modifications. Remove the custom ad blocker rule(s) and the page will load as expected.