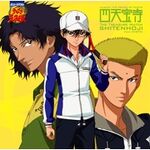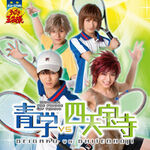 'Hyakurenjitoku no kiwami vs. Saiki kanpatsu no kiwami' (百練自得の極み vs 才気煥発の極み) is seen in:
Kizu wo iyashi norikoeta shiren no hate

Itami wa ore wo koko made michibiite kureta

Hyakurenjitoku no kiwami

Nando mo kurikaeshi nerikitaeru koto de

Mizukara no chikara de te ni ire shiwaza


"Muga no bakuhatsu-teki na POWER o hidarite ippon ni gyoushuku shite, kaiten,

iryoku nado wo baigaeshi ni shite shimau kyuukyoku ougi"


Saa ima da tobira wo akeyou

Aratana jibun wo mitsukeru tame ni


DAMAGE wo kate ni shoujin shita hibi wa

Kore made ijou ni ore wo ookiku sodateta

Saiki kanpatsu no kiwami

Mizukara no nikutai wo genkai ni oikomi

Sutemi de tsukanda TENNIS no kanosei


"Ikkyuu goto no senryaku PATTERN wo shunji ni SIMULATE suru koto

de, saitan nankyuume de kimaru ka wo miru koto ga dekiru.

Kore mo mata kanzen muhi no kyuukyoku ougi"


Kindan no tobira wo akeyou

Tsugi naru jibun ni meguriau tame


Ikkiuchi Maru de uchuu ni tadayou shukuteki

Hatashiai Sou sa jigen wo koeta tatakai ga ore wo toriko ni suru

Shinken shoubu Omae ga taoreru made yousha shinai

Seisei doudou kosoku na shudan to wa muen de iyou

Makkou shoubu da Make wa shinai

Hyakuren jitoku no kiwami

Saiki kanpatsu no kiwami

Iza shoubu!

傷を癒し乗り越えた試練の果て

痛みは俺をここまで導いてくれた

百練自得の極み

何度も繰り返し練り鍛える事で

自らの力で手に入れし業


「無我の爆発的なパワーを左手一本に凝縮して、回転・

威力などを倍返しにしてしまう究極奥義」


さあ今だ扉を開けよう

新たな自分を見つけるために


ダメージを糧に精進した日々は

これまで以上に俺を大きく育てた

才気煥発の極み

自らの肉体を限界に追い込み

捨て身で掴んだテニスの可能性


「一球ごとの戦略パターンを瞬時にシミュレートする事

で、最短何球目で決まるかを見ることが出来る。

これもまた完全無比の究極奥義」


禁断の扉を開けよう

次なる自分に巡り合うため


一騎打ち まるで宇宙に漂う宿敵

果たし合い そうさ次元を超えた戦いが俺を虜にする

真剣勝負 お前が倒れるまで容赦しない

正々堂々 姑息な手段とは無縁でいよう

真っ向勝負だ 負けはしない

百練自得の極み

才気煥発の極み

いざ勝負!

Source
Ad blocker interference detected!
Wikia is a free-to-use site that makes money from advertising. We have a modified experience for viewers using ad blockers

Wikia is not accessible if you've made further modifications. Remove the custom ad blocker rule(s) and the page will load as expected.