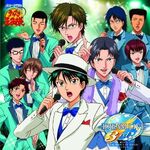 The 'Ichinen Trio Medley' (1年トリオメドレー ) are medleys exclusive to
Dream Lives
and
special performances
of TeniMyu. In these performances, the trio of the generation create a medley of their songs from various performances.
It's seen in:
Dream Live 3rd Version
3年間 俺 堀尾

いつもカチロー

ずっとカツオ


青春学園 中等部1年だ

イェーイ!イェーイ!

よろしく よろしく イェーイ!イェーイ!


いよいよ 俺たち卒業

うん 卒業だね

うん 卒業さ

1年のまま卒業だ!


ノリノリだぜ 俺 堀尾

僕はカチロー

カツオと言います


青春学園 中等部1年だ

お馴染の登場 イェーイ!イェーイ!イェイ!


ヤーヤー みんな元気?

ヨーヨー みんな乗ってるかい?

俺21 僕も21 四捨五入30

相変わらずの3人組さ

これからもよろしくね


ABCD 各ブロックで競い合う

その上位二名に 残らなかったら

新しいレギュラーになれないだね


きびしいねでもそれが青学強さの秘密

戦うことで しのぎを削り 技磨く

Source
Ad blocker interference detected!
Wikia is a free-to-use site that makes money from advertising. We have a modified experience for viewers using ad blockers

Wikia is not accessible if you've made further modifications. Remove the custom ad blocker rule(s) and the page will load as expected.