Ryosuke Ikeoka (池岡亮介 Ikeoka Ryōsuke), born on September 3, 1993, is a Japanese actor. Notably, he performed in the fourth Tumbling stage play, Tumbling Vol. 4, which is opened on August 1, 2013.
He's headed by Watanabe Entertainment and is listed as a D-BOY, which is Watanabe's acting troupe consisting of young male talents. In 2009 he won second place at the sixth D-BOYS audition event.
In TeniMyu Ikeoka plays the role of Kaidoh Kaoru as a part of the sixth-generation Seigaku cast, the first for the second season of the productions.
TeniMyu
Theater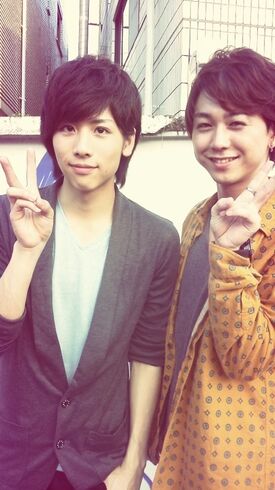 D-BOYS STAGE2010 trial-2 ラストゲーム(2010年8月-9月)
Dステ12th「TRUMP」(2013年1月23日-2月10日)ピエトロ・ロンド/ガ・バンリ 役
舞台「タンブリングvol.4」(2013年8月1日-)
Dステ14th「十二夜」(2013年10月)- オリヴィア 役
Filmography
TV
D2のメシとも!(2011年8月22日 - 9月8日、朝日放送)
TV・局中法度!(2012年10月 - 2013年3月、テレビ神奈川・千葉テレビ放送・テレビ埼玉・サンテレビジョン) - 永倉新八 役
カスペ!『芸能人アカペラ選手権 ハモネプ★スターリーグ』(2012年11月20日、フジテレビ)
TBS若手ディレクターと石橋の土曜の3回(2013年4月2日、TBSテレビ)
土曜プレミアム・芸能界特技王決定戦 TEPPEN(2013年6月1日、フジテレビ)
Movies
ポールダンシングボーイ☆ず(2011年)- イケオカ 役
俺たちの明日(2014年)- 斉藤健二 役
Websites
Ad blocker interference detected!
Wikia is a free-to-use site that makes money from advertising. We have a modified experience for viewers using ad blockers

Wikia is not accessible if you've made further modifications. Remove the custom ad blocker rule(s) and the page will load as expected.