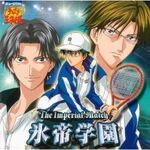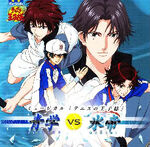 'Ikkiuchi' (一騎打ち Ikkiuchi) is a song performed by portrayers of Tezuka Kunimitsu and Atobe Keigo. The song itself is a mix of the songs Yudan Sezu ni Ikou and Koori no Emperor.
It's seen in:
ma kenai ore wa ima wo nori koenakereba
tsugi ni susumenai nakama to tomo ni


ii ki ni naru na ore no Tennis wa kami waza
omae wo tsubusu ze mirai to tomo ni

itami wa itsu ka yorokobi ni kawaru


yorokobi wo itsu ka koukai ni kaete yaru


Yudan sezu ni ikou oretachi wa mada mada


Hizamazuku agamero tatematsure
Kyousha wa jakusha wo shihai dekiru no da


GUTS wo himete ikou eri wo tadase yo


Hamukau na hire fuse obietero


Shousha wa haisha wo i no mama ni dekiru


Zenshin zenrei omae no soko chikara wo miseru toki


sou ore sama COURT ni kunrin suru


Arata na kessoku arata na kizuna


Hyoutei Hyoutei koori no EMPEROR


Teni te wo kasanete mugen no POWER umi dashite ikou


負けない俺は 今を乗り越えなければ
次に進めない 仲間と共に
いい気になるな 俺のテニスは神業
お前を潰すぜ 未来と共に


痛みはいつか 喜びに変わる
喜びをいつか 後悔に変えてやる


油断せずに行こう      跪け 崇めろ 奉れ
俺達はまだまだ       強者は弱者を支配できるのだ
ガッツを秘めて行こう     刃向かうな ひれ伏せ 怯えてろ
襟を正せよ         勝者は敗者を意のままに出来る


全身全霊 俺の底力を見せる時そう俺様は        新たな結束  
   コートに君臨す       新たな絆
氷帝           手に手を重ねて 
氷帝 氷のエンペラー   無限のパワー 生み出していこう

Sources
Ad blocker interference detected!
Wikia is a free-to-use site that makes money from advertising. We have a modified experience for viewers using ad blockers

Wikia is not accessible if you've made further modifications. Remove the custom ad blocker rule(s) and the page will load as expected.