Imai Tsunemitsu

Now

-

TeniMyu

Information
Japanese Name
今井 恒允(いまい つねみつ)
Romaji
Imai Tsunemitsu
Born In
Otsu, Shiga Prefecture, Japan
Birthday
September 5, 1984
Age
32
Character
Kai Yuujirou
Generation
Higa 1st
Portrayers
Previous
Shinotani Hijiri
Next
Shinotani Hijiri
Tsunemitsu Imai (今井恒允 Imai Tsunemitsu), born on September 5, 1984, is a Japanese actor.
When Shinotani Hijiri took a sick leave from the first season's Higa musical, "Mai-Mai" was substituted in to play his role of Kai Yuujirou.
He played this role from December 2007 to February 2008. After these dates Shinotani returned to continue his role, though Imai did stay for the rest of the Progressive Match musical tour.
TeniMyu
Theater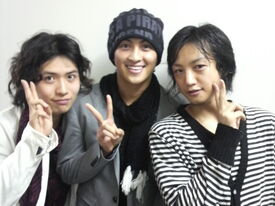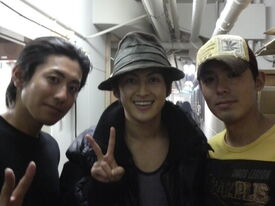 私が今この世界に生きていることを(2007年10月)
私が今この世界に生きていることをⅡ(2008年4月)
エブリ リトル シング(2008年7月)
卒業(2008年9月)
パラダイス・ロスト(2009年1月)
『シーチキンサンライズ 09』(萬劇場) 脚本・演出:友澤晃一 (March 2009)
ショート・ストーリーズvol.2『リセット』(下北沢「劇」小劇場) 脚本・演出:友澤晃一 (April 2009)
『みかん 3人で芝居、はじめました』(新宿シアター・ミラクル)構成・演出:湯原弘康 (July 2009)
ショート・ストーリーズvol.3『カンヅメcafeにようこそ』(下北沢「劇」小劇場)脚本・演出:スズキ与太郎 (September 2009)
『みかん vol.2 冬はやっぱりみかんでしょ。』(STスポット)構成・演出:湯原弘康 (December 2009)
『いま生きてます』(ザ・ポケット)脚本・演出:友澤晃一 (March 2010)
『みかん vol.3 2度あるみかんは3度ある。』(新宿シアター・ミラクル)構成・演出:湯原弘康 (May 2010)
劇団与太組『カンヅメ! ~トキワ荘でルーム・シェア~』(小劇場 楽園)脚本・演出:スズキ与太郎 (July 2010)
Filmography
TV
オーバー30(CBCテレビ、2009年1月~2月) - 鳥居保 役
Movies
Websites
Ad blocker interference detected!
Wikia is a free-to-use site that makes money from advertising. We have a modified experience for viewers using ad blockers

Wikia is not accessible if you've made further modifications. Remove the custom ad blocker rule(s) and the page will load as expected.