Irei Kanata

Now

-

TeniMyu

Information
Japanese Name
伊礼 彼方(いれい かなた)
Romaji
Irei Kanata
Born In
Yokohama, Kanagawa Prefecture, Japan
Birthday
February 3, 1982
Age
35
Character
Saeki Kojirou
Generation
Rokkaku 1st
Portrayers
Previous
N/A
Next
Utsumi Daisuke
Kanata Irei (伊礼彼方 Irei Kanata), born on February 3, 1982, is a Japanese-Chilean actor, model and musician. His original name is Daniel Irei (ダニエル 伊礼 Danieru Irei). His grandfather on his father's side provided him his current Japanese name because Irei did not like his given name.
He was brought up in Yokohama, Kanagawa Prefecture, Japan since he was 6. Though he was born in Argentina, he does not speak any Spanish, since his formal education was all done in Japan. He also has two siblings: a younger brother nicknamed Rocky and a younger sister by the name of Mari.
Irie was previously headed by Grand Arts Co., but has now established himself as an independent artist.
In TeniMyu he played the role of Saeki Kojirou as a part of the first-generation Rokkaku cast.
TeniMyu
Theater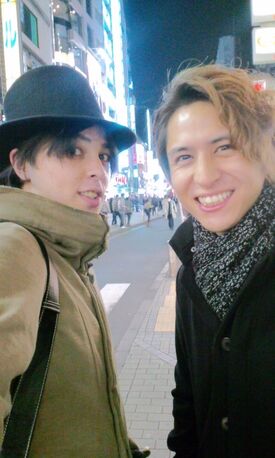 マジカルイリュージョンChange!
カリフォルニア物語 (スウェナ・ランバード/男優 ※Wキャスト)
ミュージカル 『エリザベート』(2008年8月 - 2009年1月、中日劇場・博多座・帝国劇場・梅田芸術劇場) - 皇太子ルドルフ ※Wキャスト
SUPER LIVE vol.2『LOVE LEGEND』2009年4月 梅田芸術劇場・新国立劇場
ミュージカル 『GLORYDAYS/グローリー・デイズ』 2009年6月 新宿FACE、梅田芸術劇場ドラマシティ、福岡サンパレスホテル&ホール、名鉄ホール -スキップ・トーマス役
ミュージカル 『The Musical AIDA』2009年8-10月東京国際フォーラム・梅田芸術劇場 - ラダメス役
TSミュージカル 『Garantido-生きた証-』2010年2月 東京芸術劇場中ホール
ブロードウェイミュージカル 『Side Show』2010年4月 東京芸術劇場中ホール
『SILK STOCKINGS ~絹の靴下~』2010年5月 - 6月 東京芸術劇場中ホール・シアタードラマシティ
ミュージカル 『エリザベート』 2010年8月 - 10月、帝国劇場 - 皇太子ルドルフ ※トリプルキャスト 
『今は亡きヘンリー・モス』 2010年8月 赤坂レッドシアター
『アンナ・カレーニナ』 - 2010年12月 - 2011年3月 シアター・クリエ、新潟市民芸術会館、兵庫県立芸術文化センター、中日劇場、シアター・ドラマシティ - ヴロンスキー役
劇団☆新感線プロデュース 『港町純情オセロ』 2011年4月 - 2011年5月 イオン化粧品シアターBRAVA!、赤坂ACTシアター - 汐見秀樹役
音楽劇 『リタルダンド』 2011年7月 - 2011年8月 PARCO劇場、イオン化粧品シアターBRAVA!、青少年文化センター アートピアホール
『眠れぬ雪獅子』 - 2011年10月21日 - 30日 世田谷パプリックシアター
第三回システィーナ歌舞伎 『「GOEMON」石川五右衛門』 2011年11月 大塚国際美術館システィーナホール
ミュージカル『GOLD~カミーユとロダン』 2011年12月 シアター・クリエ - ポール・クローデル役
ミュージカル『ハムレット』 2012年2月 - 2012年3月 シアター・クリエ、シアタードラマシティ、中日劇場 - レアティーズ役
音楽朗読劇「イキヌクキセキ〜十年目の願い〜」(2013年4月10日 - 13日、東京グローブ座)
Filmography
TV
ストリートファイターズ(テレビ朝日)全国人気ランキング4週1位。
OLにっぽん(2008年、日本テレビ) #7
テレビでスペイン語(2009年4月-2009年9月、2010年10月-2011年3月、NHK教育)
Movies
Trivia
Irei's able to play the drums, bass, guitar, and trumpet.
Websites
Ad blocker interference detected!
Wikia is a free-to-use site that makes money from advertising. We have a modified experience for viewers using ad blockers

Wikia is not accessible if you've made further modifications. Remove the custom ad blocker rule(s) and the page will load as expected.