Ise Daiki

Now

-

TeniMyu

Information
Japanese Name
伊勢大貴
Romaji
Ise Daiki
Born In
Hokkaido, Japan
Birthday
May 15, 1991
Age
26
Character
Hiyoshi Wakashi
Generation
Hyotei 2nd
Portrayers
Previous
Hosogai Kei
Daiki Ise (伊勢大貴 Ise Daiki), born on May 15, 1991, is a Japanese actor. He's headed by WINTARTS.
In TeniMyu he plays the third-generation (Hyotei 2nd) Hiyoshi Wakashi, the first for the second generation of the productions.
TeniMyu
Theater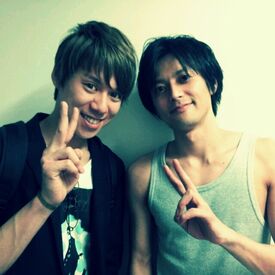 劇団空感エンジンプロデュース『銀行強盗前夜・THE STAGE』春男役 
劇団空感エンジンプロデュース『Juliet』重岡雄太役
『男子ing!!』タクヤ役
『新撰組異聞PEACE MAKER』市村辰之助役
クリエイティブ零プロデュース『逆境ナイン』ゲスト
『ポチっとな~Switching On Summer~』関恵太役
HYBRID PROJECT vol.8『Nouvell Vague』エモッチャン役
テニミュ春の大運動会 
ニコニコミュージカル第9弾『5王子とさすらいの花嫁~ニコニコニーコ・due~』プリンスダイキ役
Filmography
TV
東京MX「男子ing!!」マサヒロ役(2012年9月~毎月第2金曜20:30より)
Movies
Websites
Ad blocker interference detected!
Wikia is a free-to-use site that makes money from advertising. We have a modified experience for viewers using ad blockers

Wikia is not accessible if you've made further modifications. Remove the custom ad blocker rule(s) and the page will load as expected.