Ishiwatari Masyu

Now

-

TeniMyu

Information
Japanese Name
石渡 真修(いしわたり ましゅう)
Romaji
Ishiwatari Mashū
Born In
Kanagawa Prefecture, Japan
Birthday
January 7, 1993
Age
24
Character
Momoshiro Takeshi
Generation
Seigaku 7th
Portrayers
Previous
Kamitsuru Toru
Masyu Ishiwatari (石渡真修 Ishiwatari Masyu), born on January 7, 1993, is a Japanese actor from the Kanagawa Prefecture of Japan. He's headed by Timely Office.
In TeniMyu he plays Momoshiro Takeshi as a part of Seigaku 7th.
TeniMyu
Theater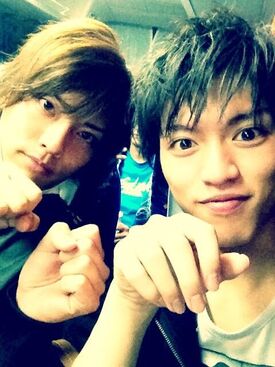 東京俳優市場2012年春『池袋レインボウズ~2012春』
RO-DOKU 音戯草子2012『99のなみだ~涙がこころを癒す~朗読会』
吉本興業創業100年記念公演 吉本百年物語 7月公演『笑う門には、大大阪』吉本英介役
Filmography
TV
Movies
Websites
Ad blocker interference detected!
Wikia is a free-to-use site that makes money from advertising. We have a modified experience for viewers using ad blockers

Wikia is not accessible if you've made further modifications. Remove the custom ad blocker rule(s) and the page will load as expected.