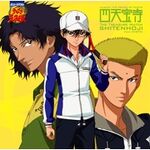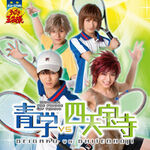 'Isshou Ippai' (一勝一敗) is featured in:
"Isshou ippai ka. Yaru na Seigaku. Shikashi, tsugi no shiai de dochira

ga oute o kimerareru ka... Omoi na, kono shiai..."


Konna ni tenki ga ii no ni Ore ni wa kumo ga mieru

Chishio no you na ame o furasu An'un ga tachikomete iru

Haran no makuake Hageshiku Butsukariau tamashii

Dare ga kattemo okashikunai shoubu

Shouri mo motarasu no wa Un nanoka TSUKI nanoka


Sunda kuuki wo hikisaite Kikoete kuru kansei

Ore ni wa ueta kemono tachi no Otakebi no you ni kikoeru

Munasawagi ga suru

Gekitou no yokan

Yousha nai semegiai

Dare ga kattemo okashikunai shoubu

Shouri o motarasu no wa

Un nanoka

TSUKI nanoka


Iya Sore wa jitsuryoku da Un mo TSUKI mo jitsuryoku no uchi

Aite ni wa maketemo Jibun ni wa makenai

Sonna yatsura no shoubu da


Inochigake no shiai Masashiku shitou ga kurihirogerareru

Kono COURT wa junkesshou to iu na no senjou sa


Isshou ippai Saki wa mienai

Isshou ippai Koko made wa gokaku

Isshou ippai Kono kintou o yaburu no wa dare da

Isshou ippai Kachinokoru no wa docchi da

「一勝一敗か。やるな青学。しかし、次の試合でどちら

が王手を決められるか... 。重いな、この試合...」


こんなに天気が良いのに 俺には雲が見える

血潮のような雨を降らす 暗雲が立ち込めている

波乱の幕開け 激しく ぶつかり合う魂

誰が勝ってもおかしくない勝負

勝利をもたらすのは 運なのかツキなのか


澄んだ空気を引き裂いて 聞こえてくる歓声

俺には飢えた獣たちの 雄叫びのように聞こえる

胸騒ぎがする

激闘の予感

容赦ないせめぎあい

誰が勝ってもおかしくない勝負

勝利をもたらすのは

運なのか

ツキなのか


いや それは実力だ 運もツキも実力のうち

相手には負けても 自分には負けない

そんなやつらの勝負だ


命がけの試合 まさしく死闘が繰り広げられる

このコートは準決勝と言う名の戦場さ


一勝一敗 先は見えない

一勝一敗 ここまでは互角

一勝一敗 この均等を破るのは誰だ

一勝一敗 勝ち残るのはどっちだ

Source
Ad blocker interference detected!
Wikia is a free-to-use site that makes money from advertising. We have a modified experience for viewers using ad blockers

Wikia is not accessible if you've made further modifications. Remove the custom ad blocker rule(s) and the page will load as expected.