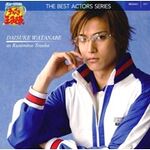 'Jewel in My Heart' is a song seen exclusively in the eleventh Best Actors Series CD featuring Watanabe Daisuke as Tezuka Kunimitsu.


笑顏ひとつで 励ましてくれる
そんな仲間たちに囲まれて
僕もチカラに なれてるだろうか?
胸に青空抱いて 微笑むから


※どんな出会いもそう きっと繋がってる
星の数のキセキに 導かれて
You are my precious one


☆幸せなんて そうどこにもある
あリふれてる 陽射しの中
かけがえのない 君がいれば
それだけでいいよ 失くせない
jewel in my heart


いつか別れが 頬を濡らしても
きっと夢が僕らを 忘れない
口にするのは 少し照れるけど
そばにいてくれること 誇リだから


どんな痛みだって 分け合ってゆけるよ
強い絆 僕らを 離さないよ
We will never be alone


すれ違いさえ そう幾度となく
だからきっと わかリ合える
いつまでも ただいられたなら
それだけでいいよ 変わらない
jewel in my heart


※Repeat
☆Repeat

Source
Ad blocker interference detected!
Wikia is a free-to-use site that makes money from advertising. We have a modified experience for viewers using ad blockers

Wikia is not accessible if you've made further modifications. Remove the custom ad blocker rule(s) and the page will load as expected.